We're thrilled to have moved up two spots in the Inbound Marketing Excellence report from Fifty Five and Five.
The report, now in its third year, is a celebration of the very best digital marketing in the Microsoft Partner Network. To create it, the agency very carefully analyses, assesses and dissects thousands of Partners from across the globe, to find the very best examples of websites, blogs and social channels.
According to the report, Qorus stands out as the customer experience leader this year. The report also contains an interview with our CEO, Ray Meiring, in which he discusses our approach to customer experience, and how it helps us achieve retention rates of over 95%.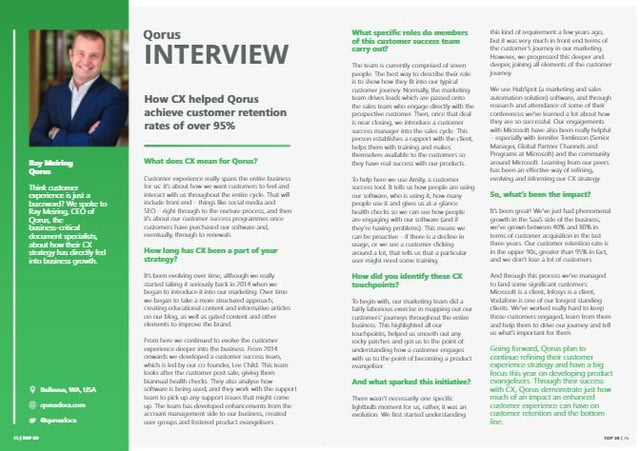 As you'll see, we've made customer experience central to our entire business. It starts with a persona-driven approach to marketing, and carries all the way through to our Customer Success and Support teams.
We're honored to have placed in the top ten this year. If you haven't downloaded the report yet, we highly recommend that you do. It offers some fantastic practical advice on Inbound Marketing, and is a must-read for all Microsoft Partners!
You can download the report here: http://www.fiftyfiveandfive.com/inbound-marketing-excellence/
How to bridge the content gap between Sales and Marketing for a seamless customer experience
This eBook explores some of the challenges faced by Sales and Marketing teams near the bottom of the funnel. It includes insight and tips from several industry experts, including Jennifer Tomlinson, Senior Manager, Global Partner Channels and Programs at Microsoft.