Sales is one of the most challenging and rewarding careers. For the best of the best, making a good living is easy and, according to Forbes, some of the most successful brands have sales reps who earn six figures annually.
Of course, becoming the best of the best takes a lot of determination, skill and hard work. In this post, we're going to focus on the skills that we believe all sales professionals should develop to excel in their careers.
1. Become a master of time management
One of the most important sales skills to master is time management. Being able to control how you spend your time directly impacts your output, and therefore your success. When it comes to sales, critical tasks like prospecting, product demos, proposal generation and admin can quickly be derailed by other, less important tasks if you don't know how to manage your time.
According to consultant, trainer, international speaker, and author Brian Tracy, there are several keys to managing time effectively, but none as important as your values. Once you've established why you are doing what you're doing, making daily to-do lists, writing plans and executing tasks becomes easier.
Helpful resource: Time Management, by Brian Tracy
2. Understand your buyers
There's no substitute for an intimate understanding of your prospect's needs, wants, and desires. As a sales professional, being able to meet your prospects' requirements with the right solution requires solid research and a clear understanding of not just what they need, but also how they want the solution to be presented.
Research shows that buyers are becoming less trusting of salespeople because they are less interested in real-life business challenges and more focused on selling a product. While this is a serious problem, there's a simple remedy: study your buyers. Learn about them as you would your product and focus on what really matters to them before the pitch.
Smart sales organizations dedicate time to developing buyer personas. If your business doesn't have any or hasn't reviewed theirs in a while, it's time to do so because you could be missing out on opportunities.
Helpful resource: Buyer Personas by the Buyer Persona Institute
3. Develop your marketing mind
The most successful sales executives understand what marketers know: nobody wants to be sold to, but everybody likes to buy. This adage applies to B2B sales as well. Few salespeople are aware of what is referred to by marketers as the buyer's split personality; the idea that buyers must ensure they find the best solution for the business, but also secretly wish for a personal benefit as a result of the purchase. Personal benefit could be anything from spending less time at the office, to being able to complete mundane tasks faster.
Developing your marketing mind helps you position your solution in a way that's more appealing to buyers, making the sales process a tighter, but more comfortable fit for buyers, instead of a cold sales-driven series of interactions.
Helpful resource: Duct Tape Selling: Think Like a Marketer - Sell like a Superstar, by John Jantsch
4. Use marketing content and collateral effectively
Effective sales executives understand modern marketing, how to make use of social media platforms to reach prospects, and why content is vital to the success of the buyer's journey.
If your sales process doesn't include the use of content to support your interactions with clients, you need to change that. Decisions about which vendor to use are typically made in meetings you can't attend, meetings where the decision-making team thrashes out which solutions make the cut and which don't.
Content gives you the opportunity to leave a lasting impression. The right case study, white paper or report can influence the decision-making team to further investigate your solution and potentially commit to it.
5. Master sales enablement software to accelerate sales
Sales acceleration is a hot topic today, but it's always been an important part of driving revenue. When it comes to the actual practice of speeding up the sales cycle, sales enablement software is essential.
Sales enablement software is any tool that continually drives efficiency in your sales ecosystem, and in highly competitive industries, every bit of efficiency matters. Research shows that sales staff can spend as much as 40% of their time searching for or trying to recreate content they can't find.
Tools like Qorus for Office 365 make finding content and creating bids and proposals a far easier and faster exercise. This saves precious time, allowing you to engage more prospects and accelerate your sales cycle.
Most people aren't aware that CRM solutions fall under the sales enablement software umbrella. For salespeople however, CRM tools, while important to have, aren't the most exciting and practical tools to use, which is why mastering the use of sales enablement software will set you apart from the rest.
6. Polish your interviewing skills
The cornerstone of the sales process is understanding what your prospects' biggest challenges are and how you can position your solution to meet them. To be able to find out what those challenges are, you need to know how to ask the right questions at the right time.
Honing your interviewing skills will turn you into a formidable force because you'll be able to:
Establish a professional approach from the get-go

Pick up on verbal and visual cues

Probe without appearing aggressive
Helpful resource: Interviewing: A guide for journalists and writers, by Gail Sedorkin. (Don't let the title of the book turn you off; it's filled with techniques and information that all sales professionals should use.)
7. Become a better writer
Beyond grammar, being able to compile an email that's both useful and effective is a sales skill that very few have, but one that makes all the difference during the sales cycle.
Your ability to capture attention, concisely explain complex solutions, and drive people to act helps accelerate the sales process.
Helpful resource: Writing That Works: How to Communicate Effectively In Business, by Kenneth Roman and Joel Raphaelson
8. Establishing all parties involved in the buying process
One of the common mistakes salespeople make is neglecting the most important parties in the decision-making team. Often, there is only one person, typically a C-level executive who has to give the go-ahead, but along the way you'll encounter other parties, including influencers who will be using the solution you're trying to sell.
The ability to determine who forms part of the decision-making team isn't a difficult skill to learn, but it does carry a lot of weight. Regardless of what you're selling, figuring out who you should be aware of won't be too difficult.
If, however, you're not entirely confident that your buyer personas include all parties involved in the decision-making team, here are basic questions to help you find them:
Who will be using your product or service?

What unique requirements does each department have of your solution, if any?

Who will be responsible for approving the purchase in finance and operations?
Using these questions, you'll be able to open up the conversation about who forms part of the decision-making team.
9. How to negotiate
Negotiating skills are often never explored in in-house sales training programs, where the focus is on product training. In fact, more salespeople are being placed in situations where a solid understanding of how to negotiate would go a long way to closing more sales more often.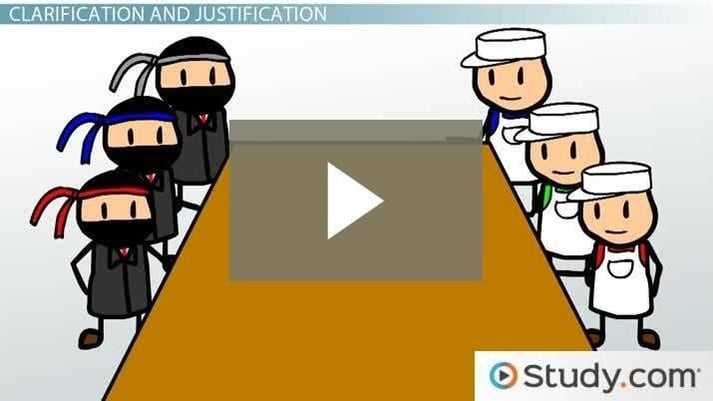 What is Negotiation? - The Five Steps of the Negotiation Process - Video & Lesson Transcript | Study.com
Learning how to negotiate effectively will help you become more comfortable with the sales process than other sales professionals, and help increase your closing rate.
Helpful resource: Never Split the Difference: Negotiating As If Your Life Depended On It, by Chris Voss
10. Know when to back off from a lead
One of the challenges of modern sales is knowing when to back off from a lead. There are various instances where this applies, each with unique elements to consider.
For example, you may have been in contact with a lead who appeared to be very interested in your solution but suddenly went cold, or, despite numerous attempts to make contact, you just can't seem to reach a lead who requested a demo. What do you do?
Backing off from the lead is not always first prize. In most cases, a little research and creativity solves the communication problem. In the first instance, your cold lead may have left the company, and in the second, you may be leaving voice messages on a line they never check.
In either case, getting a little creative about how you make contact helps. Instead of calling your lead directly, call their reception and explain that you're trying to reach your contact but can't, and want to know if he or she is still with the company.
If all attempts fail, updating the lead in your CRM and moving on then becomes the only course of action.
Bonus skill: develop your research ability
There's very little that can't be explained with good research. In sales, knowing how to find and use information helps you uncover details that can position you for greater success.
If you've never thought of yourself as a strong researcher, or someone with an appetite for information, that's okay. Most people aren't. The good news is that it's a skill you can develop.
Here are four basic steps to help you gather information faster:
Define the purpose

of your research (what problem are you trying to solve?)

Establish which resources you will use

(will you interview people, use books, the web or all three?)

Document your findings

to make them easy to reference for yourself or others. For instance, if you're researching a company and find useful information on the size of their business, what their strengths are, and who their biggest competitors may be, documenting this information and storing it in a safe place is a good idea. It helps you qualify the business and gives you enough leverage to start a meaningful conversation.

Note any resources

used, just in case you need to double-check facts or refer back to sources for information updates
Like any other profession, developing certain skills can help you achieve more than your peers. These sales skills, if developed, can help you take your career to the next level.
Are you wasting time searching for content?
Qorus for Office 365 connects your best content to the places you work. Instantly find winning content from SharePoint Online or OneDrive for Business and insert it into Outlook, Word, and PowerPoint. The result? Better quality business-critical content and happier, more connected, productive, and efficient employees.