If you're like us, and love all things that can help your business become a bigger and better version of itself, then you'll enjoy this blog post. In it, we take a look at what we call the seven content marketing habits of highly effective Microsoft partners.
But before we get into the habits, it's worth exploring why we think they matter.
Content marketing changed the game
It's clear that content has transformed the way businesses used to reach their buyers. What's also evident is that a lot has changed since the early days of online marketing. Paid advertising has blown up, with social channels like Facebook offering the most competitive rates today, and there's no shortage of content to consume.
But with all the developments, quality content, strategy, planning and results remain the pillars of successful marketing. And, if research is anything to go by, few businesses have been able to establish these pillars.

CMI's 2017 Benchmarks, Budgets, and Trends Report shows that few businesses have a documented content strategy
We think that should change. Great creative will always capture the minds (and hearts) of buyers, but successful marketing can be distilled to a series of habits which, when performed diligently, produce results.
As Microsoft partners, we're on our own content modern marketing journey. We've made mistakes, and we've also had some great wins. The seven habits are what we've found to generate results for our business, and if applied, could make a difference in yours as well.
Here are seven content marketing habits all Microsoft partners should adopt.
1. Have a strategy
Over the years, CMI has produced one of the most informative reports on the B2B marketing landscape. The Benchmarks, Budgets, and Trends Report tells an important story about marketing and where it's going. It also shows the biggest challenges B2B firms face.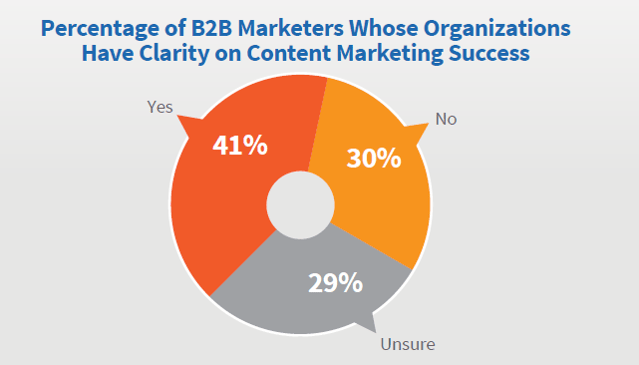 CMI's 2017 Benchmarks, Budgets, and Trends—North America
Does having a strategy really matter? Well, yes. Your content success is measurable, and therefore having a strategy allows you to review what's worked and what hasn't.
Here are three great reasons why you should create a strategy if you don't already have one:
Having a strategy also saves you from repeating the same expensive mistakes.

It takes the guesswork out of what you'll be focusing on throughout the year, allowing you to zero-in on the activities that will produce more of the results you want.

It's a guide that keeps you focused on your goals, especially when new, shiny ideas come along; ideas that require budget.
How Nuix uses content to drive inbound success
Executing on a well-defined strategy generates results. One Microsoft partner that's been recognized for their inbound marketing success is Nuix, this year's Top 50 Inbound Marketing Excellence Award recipient.
Nuix builds tools which help customers solve complex data challenges in the cybersecurity arena. Their commitment to inbound marketing shines through with high-quality, in-depth content shared through blog posts, guides, case studies, whitepapers, and video.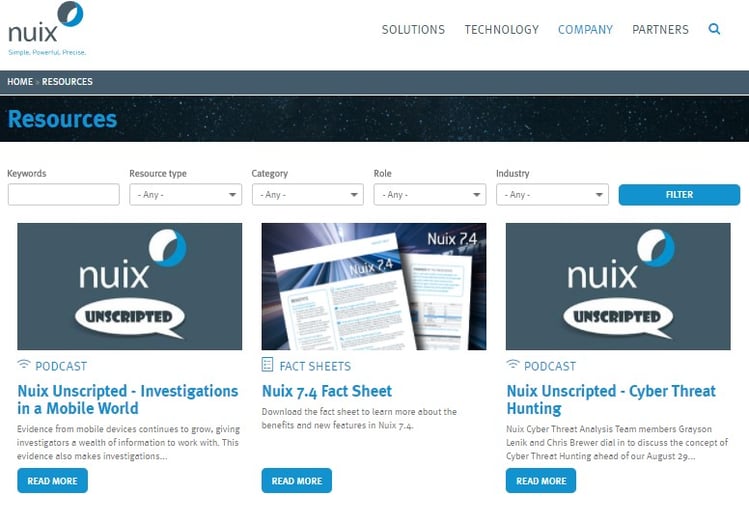 Nuix's resource page is filled with valuable information on solving problems buyers face
If your business has never developed a strategy, here's a great blog post from HubSpot on how to build one.
2. Become a lead generation machine
'Leads' have likely been a topic that your sales team has a lot to say about. Truth is, that conversation happens in every organization. As a marketer, it's clear that one of your most important goals is to generate as many of the right kinds of leads as possible to pass onto sales, but for most marketers that's easier said than done.
Effective lead capture is always linked to the promotion of quality content, whether on your blog on through paid advertising.
Once you've found a channel that works, don't abandon it. Instead, funnel more spend to generate more leads.
How Sharegate uses content upgrades to generate leads
Sharegate is a Microsoft partner and leader in SharePoint & Office 365 management around the world. Here's an example of how they generate leads using content upgrades:
Sharegate developed a blog post titled "The Definitive Guide to Office 365 External Sharing". In the post, they include a call-to-action for readers to download the complete guide.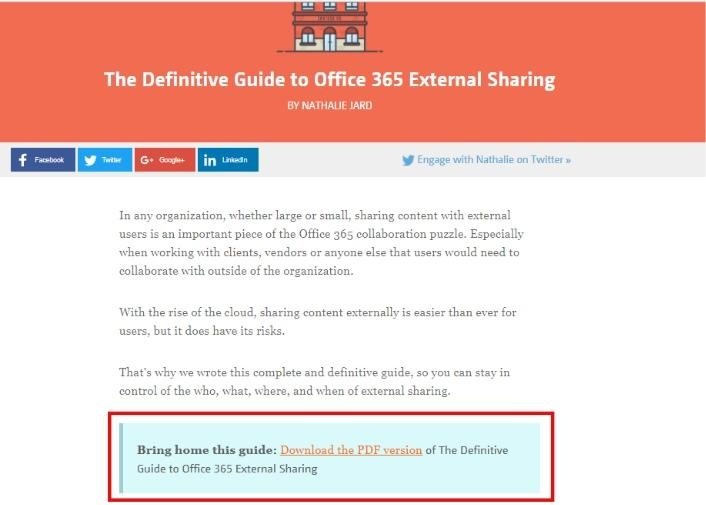 When readers click on the download link, they are sent to a landing page with a contact form.
There are tons of ways to generate leads, and if you've struggled to do so, here are two resources that you'll find helpful:
Neil Patel's blog post on how to generate leads covers what content upgrades are and how to use them. It's pure gold and we've used them and have seen amazing results!

Digital Marketer's blog post on perfect content marketing is a great reminder of how it should be done and how to generate leads.
3. Build a UX friendly website
There's no denying how important UX is. Everything from website load speed to navigation menus and where your resource section is hidden matters.
Good UX incorporates all of the above and more; but most importantly, it's all about helping users easily access information that will generate revenue. It's also a balancing act. You can't include every idea or suggestions from your team, and you also cannot guess what should make the cut and what shouldn't.
So, how do you pull off great UX?
Veteran UX consultant, author and speaker Joe Natoli evaluates content on a graph to determine what makes the cut and what doesn't. This way, only the most important content – content that meets the "include or die" criteria – makes it onto a website.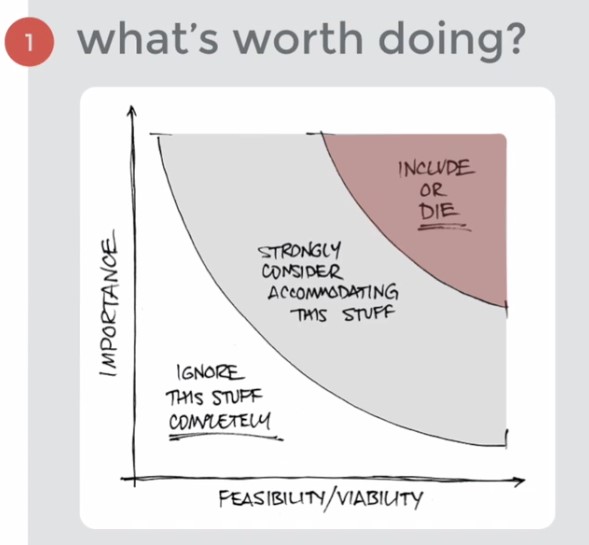 How Nintex created a useful, usable website with valuable content
Nintex provides enterprises with some of the most widely-used workflow automation tools, which are used by thousands of companies worldwide.
Recently, they redesigned their website and made the number four spot of the Top 50 Inbound Marketing Excellence list. Nintex shows how great UX can distill the complexities of workflow automation down to easy-to-understand concepts for their buyers.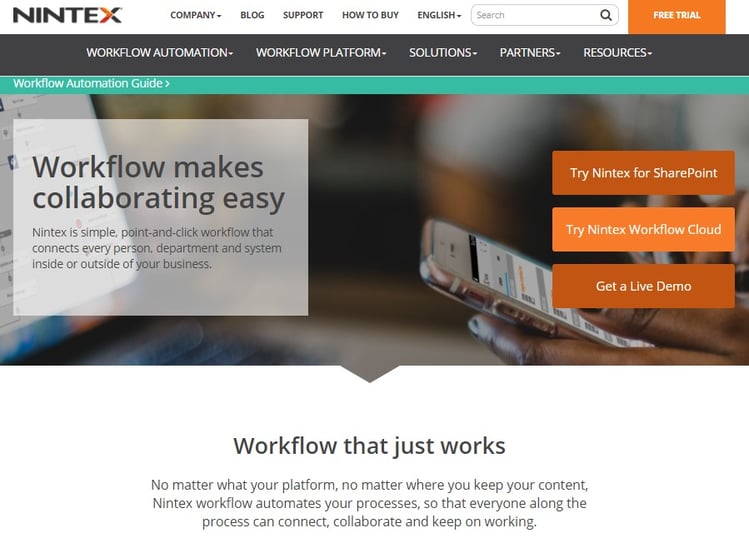 If you know that your website isn't quite the UX dream you want it to be, here are two resources worth checking out:
4. Produce content regularly
Effective marketers produce great content regularly because doing so produces results. Today, it's not enough to blog every second week, especially if you're in a highly competitive industry. Publishing content religiously helps your brand stay top of mind and feeds your marketing funnel.
We've seen that the only way to produce content like clockwork is by planning it and having the right team to create it.
How Rencore uses expert research and quality content to stay top of mind
Rencore is well-known for SPCAF, the SharePoint Code Analysis Framework which analyses thousands of lines of code across SharePoint customizations to ensure they're safe. They're also well-known for their original research, expert content, blogging, webinars and podcasts.
In the words of Matthias Seidel, head of marketing, "We put a real focus on providing authentic and useful content to our readers. We help them understand the Microsoft world better, and in turn they see us as experts".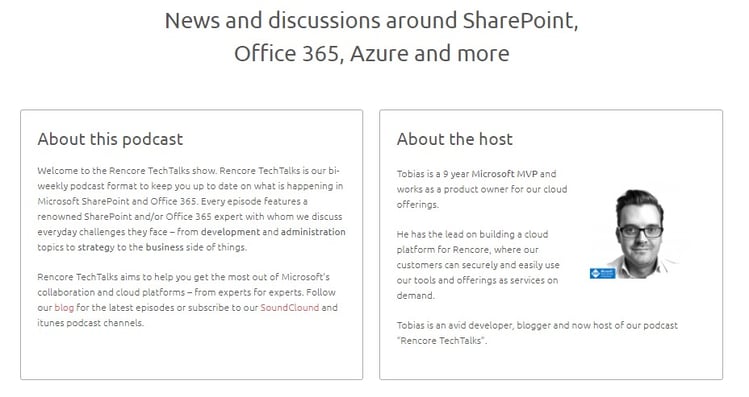 Rencore's podcast page
If you find it hard to produce content regularly, here are a few resources that could help:
5. Produce quality downloadable content
It's easy to come by large amounts of hollow content today. If you've ever traded your email address for a guide that never offered any new or useful perspective, you know what hollow content looks and feels like.
Quality content takes time to research and produce. But, if you get it right, you'll be able to realize the results you're after.
Here are a few tips on creating quality downloads:
Plan your material from start to finish. Know what's going to be included and why.

Don't skimp on the research. Go where your competitors won't go and dig deeper to offer more valuable insights.

Interview experts. Even though you're marketing your product, expert insight is invaluable and can help you develop a narrative your competitors have never considered.
How Nuix makes guides stronger using video on landing pages
Nuix's approach to producing quality content is simple: create engaging material about problems buyers experience and show them Nuix's way of solving them.
When it comes to driving downloads, beyond having attractive white papers to offer, Nuix also uses video to immerse users in their content.
You've likely produced a number of downloadable guides in your time, but if you're looking for a process that's repeatable and could help you build stronger material and promote it, here are two resources worth checking out:
6. Make social matter
Most businesses think of social as a nice-to-have and that's because few know how to really tap into social channels to drive revenue.
If we were only allowed to give two reasons why all businesses should be active on social media, here's what they would be:
Reach

. The right social media strategy (with or without paid advertising) can help you reach an audience you might never have been able to engage

Attention

. A well-planned social strategy can help your brand stay top-of-mind in a world where attention is easily lost.
How Nutanix scored highest for social media marketing on the Top 50 Inbound Marketing Excellence list.
Nutanix helps IT organizations transition from legacy infrastructure to modern digital working, but they're also masters at social media marketing. Their social media strategy has helped them build large communities, with the most notable being a Twitter following of over 70,000.
Nutanix uses social to engage followers and share high quality content in various formats.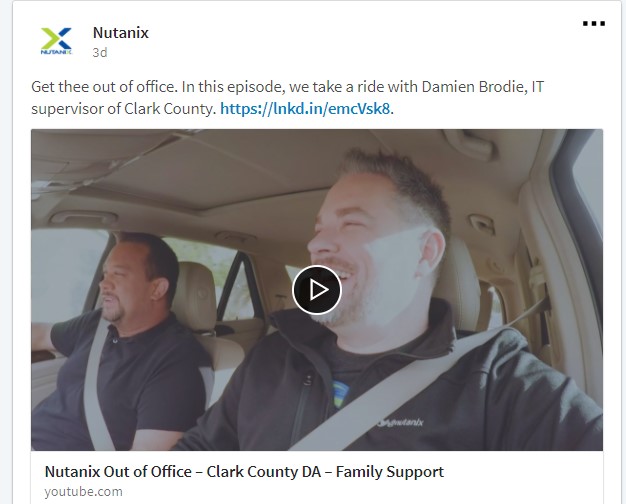 Nutanix's LinkedIn page shows a YouTube video on how they form stronger bonds with clients.
Building a strong and well-structured social strategy takes time and planning. If you feel that yours could use more strategic direction, here are two resources that can help you build a noteworthy presence:
7. Always measure
There's a misunderstanding about measuring content marketing. As Neil Patel points out, most marketers think it's impossible to do because few understand the direction that their content is taking.
Why it's important to measure your efforts:
So that you don't make the same mistakes

To prove what's working and what's not

To iterate and generate more ROI

To spot trends and what your audience wants more of and to give it to them
Digital marketing is measurable, and that makes it one of the most exciting fields to be a part of.
If you're looking for ways to measure the success of your content, here are two resources with useful insights:
It takes a lot of work to achieve digital marketing success, but it is possible. Having a strategy, building a lead capture machine, a user-friendly website, producing regular and high quality content, leveraging social media and measuring your efforts will bring results.
Free guide: Modern marketing in the real world
Tips and insights on how to shorten your modern marketing learning curve and avoid mistakes.