In the spotlight: Michelle Revsbech, Senior Vice President of Alliances at Qorus
Welcome to the 3rd installment of our new blog series on personal productivity and the work/life balance. We kicked off by interviewing Heather Thompson, our SVP of Marketing, and then last week we learned from Jennifer Tomlinson, Senior Manager, Worldwide Channels & Programs at Microsoft.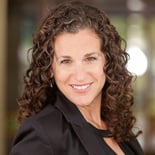 This week, we're talking to Michelle Revsbech, our SVP of Alliances.
How long have you been in a leadership position, and how big was the jump in responsibility and workload?
I have been in this position for less than 2 years. And yes, it was a massive leap in terms of responsibility, accountability and workload!
How do you deal with this increased responsibility and workload?
It's a constant, daily struggle to get the balance right. Unfortunately, I have yet to find the "key" to success. The obvious mechanisms of exercise, good diet, positive attitude and discipline help. It also helps to recognize that it's a work in progress to find the balance and some days are just better than others!
On a practical level, quite a few things happened. The first was an increase in support from my family, and my husband in particular. I have to travel frequently, which is hard on my daughter. We decided to relocate to a different city so that I could be closer to a good airport - this gives me 2 extra hours with my family per trip and options for flights.
My husband is a great support, he picks up a lot of extra parenting duties for our daughter when I am away. The travel is tough, and I have found the challenge is not just about the time that I am away. It's also about balancing the 'before and after' phases of each trip to help us all get back into the "groove". For example, I write notes for my daughter's bedtime for each night I'm away. This makes my absence easier on her and the family.

At the end of the day it's important to make incremental changes that over time add up and give more work/life balance.
How do you structure your day for maximum work/home balance?
Each day is different - it really depends whether I'm traveling or at the office. I address important emails quite early to take advantage of time zones, then get my daughter ready for school. I get my meetings done during the day before she is home from school and then complete project and actual "work" after she goes to sleep.
How do you keep your motivation and energy levels up?
With massive support from my family. My husband, daughter and parents are the biggest support. Running is my motivation, and energy boost.
Are there any apps or tools that you use to aid time management
I use a combo of online schedules, but I combine it with a "paper" list.
Have you read any good books or articles on the subject that you would like to share?
I find LinkedIn and Ted Talks the best source of great content on the subject.
Have you benefited from having a mentor? If so, do you have any advice for readers wanting to identify and approach potential mentors?
I have had several mentors along my career path. Penelope Morman at Merck was my mentor while I was in Pharma and she was the epitome of a female leader. She still inspires me to this day.
If you had to give a woman aspiring to be in your position one piece of advice or encouragement, what would it be?
Make sure your foundation and balance is in place – clear communication and transparency is important. Share with your partner and kids. Talk about where you are going and why. I have a young daughter who doesn't like it when I travel, but understands and can talk about her feelings openly with me. This dialog and conversation gives her a feeling of security. My husband is my rock, find someone to be your rock – friend, partner, relative – someone to be your sounding board.
How can businesses better support their female executives
They can create an environment of open conversation and a create a culture of "normalcy" vs. a rarity.
Acknowledge women who are brave enough to take time away from their jobs to participate in school events and daily life with their kids. It takes strength to embrace your home life during the traditional business day
---------------------------------------------------------
Michelle's energy and positivity are well-known throughout Qorus. She is a huge asset to the business and is one of many female leaders who are inspiring a younger generation of ambitious women in technology.
If personal productivity is something you strive for, take a look at our helpful add ins for Office 365.
Watch this space, next week we're interviewing Shamiana Soderberg, US Azure CSP Partner Channel Lead at Microsoft.