Shamiana Soderberg, US Azure CSP Channel Lead at Microsoft
We're now 4 weeks into our blog series on personal productivity and finding the work/life balance. Last week we heard from Michelle Revsbech, SVP of Alliances here at Qorus. She had some great practical advice to share.
This week we're talking to another inspiring Microsoft employee. A couple weeks ago we heard from her colleague, Jennifer Tomlinson, and today we're chatting to Shamiana Soderberg, US Azure CSP Channel Lead at Microsoft.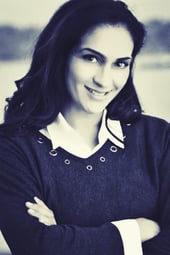 We have always been in impressed by Shamiana's positivity and responsiveness, so we're glad we finally got a chance to ask her how she manages to do it all:
How do you deal with the increased workload and responsibility that comes with a leadership position?

I think the answer depends on how you define leadership. When you lead a team, an initiative or a project, the vision to aim high and succeed is dependent on your approach. One never achieves success on one's own. You need to bring others on the journey with you. That's the hardest responsibility you take on!
To play your part in a best-of-breed organization, bringing your best game to whatever role you pay is critical for overall organization success. For me, that has involved multiple work streams over multiple stakeholders, across many business areas to bring alignment and prioritization of planning, scale, measurement, enablement and growth.
So yes, the responsibilities grow, and the workstreams grow but the key is to focus, prioritize and learn to say no.
How do you structure your day for maximum work/home balance?
Being a working mother and juggling a career and balance in family life is not an easy feat. I wish I had a single formula to balance time!
I have been in situations where I have forgotten to acknowledge or question what's more important to me in my personal value system, until things get complex. So I have been consciously making an effort to set priorities, because I realized that, even when I was using efficient time management, it didn't mean that I was using it effectively. Once you get into the habit, the benefits to your wellbeing are worth the effort!
How do you keep your motivation and energy levels up?
I don't want to sound cliché, but I love what I do. I like the challenge – it energizes me. Don't get me wrong... there are parts of my job that I don't particularly like doing, but I know that it's necessary to have the right support structure in place for areas like finance and analysis.
For motivation, I find that it helps to envision my ideal future state. So I pinned this up on my board to look at every so often:
One year from now, if everything absolutely "clicked" I would:
Prioritize work, say no, and get rid of the "noise"
Which would give me efficiency, focus and the ability to maximize time on the job – so that I can free up time to focus on personal time
Be present in every situation: at work as well as during family time with my husband and children (my family time is not negotiable!)
Have "me time" without feeling guilty or burdened
Have greater awareness to enhance inner wisdom
Be mindful and present, without having judgement
And still nail it all!
Are there any apps or tools that you use to aid time management?
Absolutely. I love how technology has evolved. The one thing I do try and remember to do is turn my phone to silent when I get home, so that I can decompress and spend time with my family. Unfortunately, the emails pile up rapidly, so I set up folders with flags so that I can get to the high priority ones first, then work my way through.
There are often times when it feel like there are not enough hours in a day. I have to force myself to take a step back and re-evaluate what's critical for success and what's not. It's the only way to get rid of the excess "noise".
Have you read any good books or articles on the subject that you would like to share?
Sure, I'd recommend:
If you had to give a woman aspiring to be in your position one piece of advice or encouragement, what would it be?
Be agile and flexible during business and organizational changes restructures and technology transformations.
Remember to be true to your own personal philosophies in order to be true to others. This is what continues to ground you, help you evolve, to focus, to feel energized and to hold yourself accountable for your own destiny.
Don't lose sight of your values and integrity.
Participating in a local chapter focused on Women in Technology is a great way to build your network, here's a great example: www.womenintechnology.org
Continue to build your personal brand.
Remember that when one woman helps another amazing things can happen!
Have you benefited from having a mentor? If so, do you have any advice for readers wanting to identify and approach potential mentors?
Absolutely. In fact in today's complex and ever-evolving business environment, I believe that having a mentor is critical to career advancement.
When you have a mentor, you are learning from someone who has already been where you aspire to go. They know what it takes to get there, how to get there, and what areas you need to develop as you build your brand on that journey.
You can have multiple mentors depending on what you want to accomplish. Think of them as a trustworthy sounding board - people who can provide different perspectives, coaching and help you boost your confidence in uncertain situations. To find the right match in a potential mentor, think about what is it you need to develop. Is it executive presence? Strategic growth, etc. Then look at your network of people you respect and inspire you and start from there.
One other thing – I believe that being a mentor is just as important as being a mentee when it comes to being successful. Remember that as you grow, others are going to seek you out as a mentor to help them find direction.
How can businesses better support their female executives?
By sponsoring leadership and mentoring programs, investing in diversity and growth, and recognizing and rewarding the impact being made.
---------------------------------------------------------
Shamiana's wisdom and sense of purpose are encouraging. Our biggest learning from her, is that it's worth taking a minute to step back and look at your priorities while considering how you want to be working in a year's time.
If personal productivity is something you strive for, take a look at our helpful add ins for Office 365.
Watch this space, next week we're interviewing Pamela de Swardt, SVP of Finance and Operations here at Qorus.