With it being Friday, I found myself reminiscing over my weekend away in the country just last weekend. What had happened is I noticed that one of my friends didn't appear as jovial as the rest of us and was choosing to stay behind on the various excursions as she had a proposal to write and a Monday morning deadline. What timing!
This prompted a conversation about work and we chatted about her job. She's a consultant in a very busy department of a large, well-known multi-national organization, and from previous conversations I know she loves her job. But I noted this time that she sounded fatigued and when I asked her about this she admitted that she was finding the task of proposal writing more onerous than usual.
I could feel her frustration as she went through some of the details of her role and I reflected on how many of my friends seemed to feel the same way. Chasing tenders and the writing up of those documents, in her opinion, keeps her away from her 'real' work - her billable work, which involves working closely with clients and providing them with solutions. And yet it's impossible to get away from it because, in business, to stand still is to go backwards. The result is, of course, that much of her personal time is taken up with the writing up of proposals and this, she realised, was not doing her or her family any good - having to work long hours and weekends.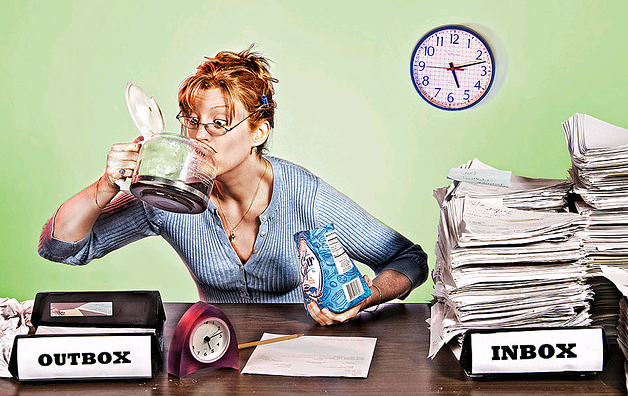 Image source: https://www.flickr.com/photos/beforethecoffee/2404849371
It's interesting to examine and understand her pain points, and I'm sure many will relate:
The Pressure of Time – The proposal writing task demands intense research followed by an editing process, restructuring and polishing, all of which is carried out to incredibly tight deadlines. To find the right content, you need to be in touch with the gatekeeper of that content. If you're lucky you know who that is but in many cases, especially in large organizations, this can take a number of emails and phone calls to track down resulting in hours, if not days lost. Once you gain access to the content, it has to be formatted to fit the requirements of the proposal – most tenders are quite rigid in the presentation requirements. Equally important is the 'sexying' up of the document – it needs to stand out from the competition and it needs to scream professionalism, attention to detail and high quality. Branding and impactful visuals are required, not to mention punctuation, grammar and spelling that need to be carefully checked. All of this takes a substantial amount of time and effort.
Content – as mentioned, and accessing the right intellectual capital is often difficult. One of the points my friend made was particularly interesting to me. In her experience there was no solution available that supported the process of finding the right content and a lot depended on her ability to build relationships within the organization. Networking and staying in touch with colleagues meant that it was easier to track down content when she needed it, and also that people would be willing to cooperate and meet her requests with the sense of urgency that the project required. For her therefore, interpersonal skills were critical to the success of proposal writing and she didn't believe that she could meet her objectives without them.
The other really interesting point was connecting the right tenders with the right experts; it appeared to take some time for the admin teams to find the right people within the organisation to respond to a proposal. This in itself wasted valuable time up front just trying to access the right consultants and experts.
Resources – although the company has a dedicated proposal department, they were unable to help her. The teams always had capacity issues, and the requirement, she explained, was long lead times on projects. Proposals had to be booked well in advance, and for my friend this was just not a practical solution. Often her proposals had to be turned around in days, she didn't have time on her side and booking in and handing over the required content in advance wasn't feasible. Plus, on the occasions when she did hand over her project to the department, she felt it lacked the care and precision required had she completed it herself. She was also let down when documents weren't delivered on time, as promised. She felt frustrated by this system and elected not to work with the proposal department again.
If the company had a database or bank of content, something that would help to accelerate the process, she was unaware of it. But even if there was one at her disposal, how could she trust the content? Who is responsible for its upkeep? Would it give her the peace of mind that the content included in her work was accurate? The other point raised by my friend was that terminology is constantly changing and can mean different things in different contexts. The multiplicity of labels and a dictionary that is flexible and intuitive are requirements for her when she is looking for information but who decides how to catalogue all the content?
Adding to the challenge is the issue of formatting. Each tender has its own required format - tenders can be quite prescriptive so even when you do have access to the right information, you often have to rewrite it in such a way that it suits the guidelines provided by the tender.
While listening to the many challenges of her job, I reflected on how much I had heard this before from so many others. In her opinion, there is no way around the proposal production process. She sees no shortcut and no solution that reduces the substantial investment of time required for each project. But this is not a 100% true. Big business is at a turning point and companies that are not already deploying smart document automation solutions are the ones that will be left behind.
The best ideas are solutions
The intelligence, and usability, behind software solutions has moved on at a rapid pace in recent years and there are companies producing very sophisticated software solutions for everyday challenges that substantially reduce the need for human intervention. There will always be a requirement for intellectual contribution but the process can certainly be streamlined.
In conclusion after lengthy discussions about bids, tenders and proposals I highlighted to my friend, the company that I now work for. We offer a software solution that is easy to use, scalable and versatile with innovative features that will help ensure a company's proposals get better and better. The software addresses the challenges outlined above by my friend and for ease of reference I have included them again below:
Access to the right Content: Leveraging a Content Library, so reusing existing approved content
Complex Tool: Ours is Easy to use, so less effort and hassle, and therefore increased efficiency.
The result of the final proposal is one of high quality, personalized, customized, and professional and therefore supports win rates. And these are just some of the features and benefits.
The number of companies around the world that subscribe to our solution is expanding rapidly and we see the demand as a growing trend. For more information or to book a demo, please contact us here. I'm already engaged with my friend's company and I'm sure we are going to help with making her life a lot easier.