You're on holiday! If you're checking your social channels at all, we're pretty sure you don't want be to reading long detailed articles on how to build a more productive marketing team, or how to accelerate the sales process. Leave that for the new year!
To help you wind down the year, celebrate the successes of 2017, and get the creative juices flowing for 2018, we've collected five of our favorite B2B marketing campaigns of the year.
Just because we're in B2B, doesn't mean we need to be boring!
1. HP uses video storytelling to bring life to the dry topic of security
HP produces some fantastic campaigns, and this one was no different! The following video, featuring Christian Slater, uses negativity and humour to show just how vulnerable your data is....
2. MailChimp uses quirky search and PPC to drive brand awareness
MailChimp is an email marketing platform which, as its name suggests, has always taken a quirky approach to marketing - and we love it! As this video shows, the company came up with a fun, creative way to build its brand by taking over searches that sounded like "MailChimp" but weren't.
3. MarketStar uses social media and zombies to get the message across
Social media is one of the best places to build your brand and reach new audiences, so why not go Hollywood? MarketStar is a global sales and marketing outsourcing company that has done a great job using B2C storytelling methods to engage B2B audiences. Who doesn't love a good zombie movie?!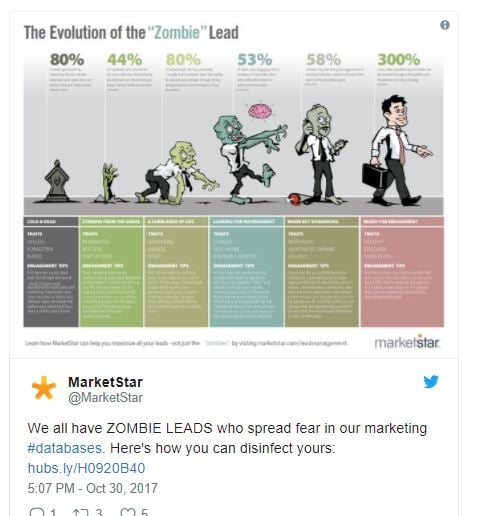 4. Law firm BLP cuts through the clutter with video storytelling
It's not often that we see such a creative campaign from a law firm, especially when the target audience is the financial services industry! This is a great example by BLP, showcasing the value of their expertise at managing regulatory risk.
5. The New York Times uses an integrated online and offline campaign to grow subscribers
This one isn't quite B2B, but since 2017 has been such a year for politics, fake news and the media in general, we admire this brilliant but simple, copy-led campaign. It's a great example of using current affairs to drive engagement.
For more inspiration, check out these blog posts:
Happy holidays! We hope you're able to enjoy a few weeks of rest and fun with friends and family. We have a feeling 2018 is going to be a good one.
P.S Don't forget to sign up for our blog alerts below!