In the last few years, digital transformation has become a major topic, but that doesn't mean all companies are implementing it. In a recent study, 87% of businesses expressed that they face significant challenges on the road to transformation, and 70% conceded that internal complexity, among other factors, undermined external transformation.
The pressure to transform comes from different places. Data shows agile competition as a threat, and growing customer demand for better service, value and overall experience are the top four hurdles to conquer.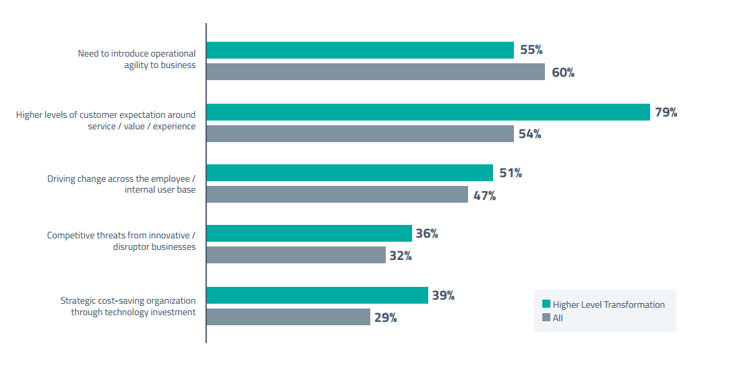 One thing is certain: organizations need to digitally reshape their operations to participate in highly competitive markets and win.
How we help businesses transform
We hold the view that digital transformation is all about observing which areas in business need to be enhanced to get the greatest return on investment. We've found that document creation and management are critical to business growth, given that documents are needed for marketing and sales activities, and ultimately closing the deal.
Positioning ourselves to help customers experience a new way to save time and be more productive makes a real difference along their path to digital transformation.
As a Microsoft partner, we've built our solutions to boost the efficiency of the Office 365 suite and help you do more.
Recently, we had the opportunity to work with Sharepoint Revolution. They help organizations free up time, space and energy for doing what matters most through workflow and content automation solutions. As a long-time Microsoft technology user and partner, they've positioned themselves to help business transform.
When Larry Nordlinger, CEO, learned of Qorus and DocuSign's partnership, understanding the value of bundling efficient document creation and management solutions with digital contract signing capability meant that it didn't take much convincing for him to transform the way he ran his business.
Download the mini case study here
Sharepoint Revolution prepares large amounts of content on a regular basis. Proposals, SoWs and contracts are how they present their solutions to clients, but creating business documents is time consuming. It's not uncommon for us to hear that most contracts take between 30 minutes to two hours to produce when speaking to businesses looking to enhance their operations.
In fact, the creation of proposals, RFPs and bids causes serious bottlenecks in productivity due to the challenge of finding accurate and easily accessible information.
Qorus and DocuSign for Office 365 in action
In Larry's case, Qorus and DocuSign for Office 365 was an easy integration. Like many businesses, Sharepoint Revolution relies on Sharepoint Online and Office 365. Our solution allowed Larry's team to leverage existing technology and enhance the way they locate information to include in business documents. Our software integrates with Office 365 to create a seamless way to search for accurate information, which can then be added to proposals and contracts. All of this can be achieved within Word, PowerPoint and Outlook.
Including DocuSign's digital signing capabilities allowed for quicker approvals and a faster sales process, giving Sharepoint Revolution a complete end-to-end document creation, management and approvals solution.
As a result of the integration, Sharepoint Revolution saw a drop of almost 150% in the time spent on document creation, agreements and signatures.
Digital transformation can be a complex exercise, however if you focus on areas where your business is struggling – areas that directly influence revenue generation, solutions like Qorus for Office365 and DocuSign can streamline your daily operations and help you achieve the levels of productivity you need to grow your business.
Try Qorus Document Builder for Word
Qorus Document Builder helps you easily and quickly find and re-use your best content, while you work in Word, by connecting to OneDrive for Business and SharePoint Online.