It's been a rough couple of years for the legal industry. After the subprime mortgage crisis of '06 and '07, and the worldwide financial crisis of '08, things haven't been the same. Demand for legal service has taken a nosedive with clients opting to handle work they'd otherwise have outsourced, and there's the daunting realization that as clients become even more capable and are doing more to save more, the likelihood of things going back to the way they used to be is slim to none.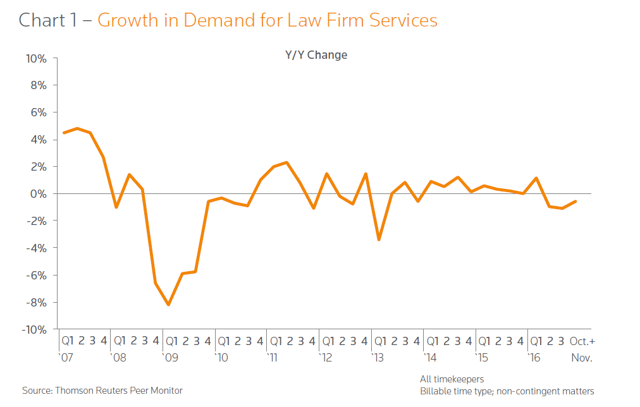 Image source: 2017 Report on the State of the Legal Market
Tough times like these create more pressure for marketers. We're challenged to produce more with smaller budgets and there's very little margin for error.
The good news is that even though times are tougher, it's possible to become a better marketer. In this blog post, we're going to focus on a few areas of your digital marketing strategy that you can zero-in on to strengthen your marketing.
Smart legal marketing starts with great content
We recently won this year's Microsoft Customer Experience award, and one of the reasons we did was our commitment to persona-based marketing. It's at the heart of everything we do. If you haven't completely bought into personas, I recommend that you do. It'll save you from guessing about where to take your marketing.
The award came at a pivotal point in our content marketing journey. We'd been looking at new ways to engage our audience; ways that bring more valuable content about challenges that our personas experience every day to the forefront.
You may be in a similar position; looking for more effective ways to connect with your audience. Here are three strategies we've found to strengthen our digital marketing efforts.
1. Stay relevant
Content marketing is evolving. We've found that marketers are telling more complex stories which are better planned than they were 12 months ago. They've started positioning their blogs and website resource sections as news publishing platforms with specific attention to trending topics.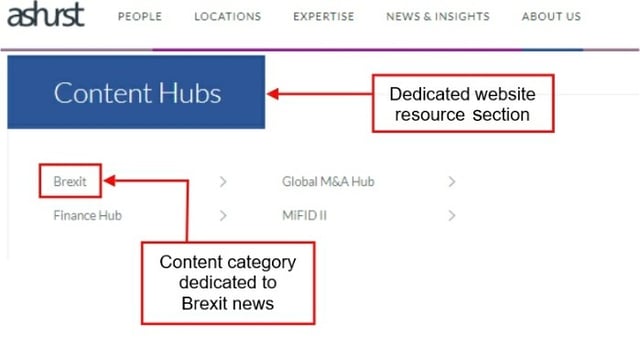 When news of Brexit broke, speculation about whether or not Britain's exit from the EU would be a good idea and what it meant for all involved made headlines globally.
Ashurst saw an opportunity to participate and committed by creating a section on their website dedicated to sharing insights and news on Brexit with their audience.
To date, they have 38 entries, each with commentary on Brexit developments. But they didn't stop there. Knowing that prospects seek experts, Ashurst solidified their thought leader status and created a very approachable brand by including a 'Key Contacts' section as a permanent feature on their Brexit Hub.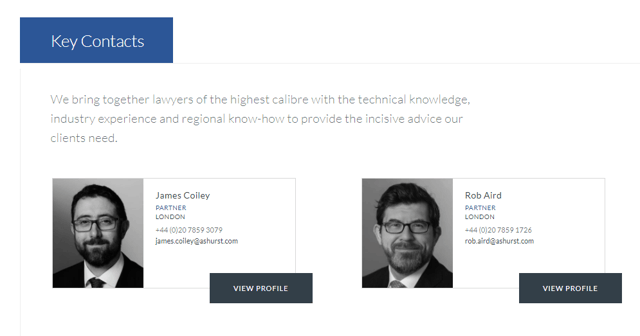 Staying relevant is as simple as establishing what really matters to your audience and building core content around that topic.
2. Optimize your marketing funnel
Your marketing funnel is likely one of the most underutilized tools that you have. In many cases, we've seen that marketing funnels often aren't optimized to qualify leads through the delivery of valuable content. You may think that legal marketing has no room for 'optimized marketing funnels,' but that's not true.
Your marketing funnel is a gateway to a larger relationship that you're developing with a prospect. Like courting, your prospects need to get to know you because, in most cases, you're likely to only win the right to be their legal counsel when they develop a need for your services.
Before then, your goal is to stay top-of-mind, and the cheapest and least time-consuming way to get your brand in front of your prospect is by constantly engaging them with valuable content that's part of your marketing funnel.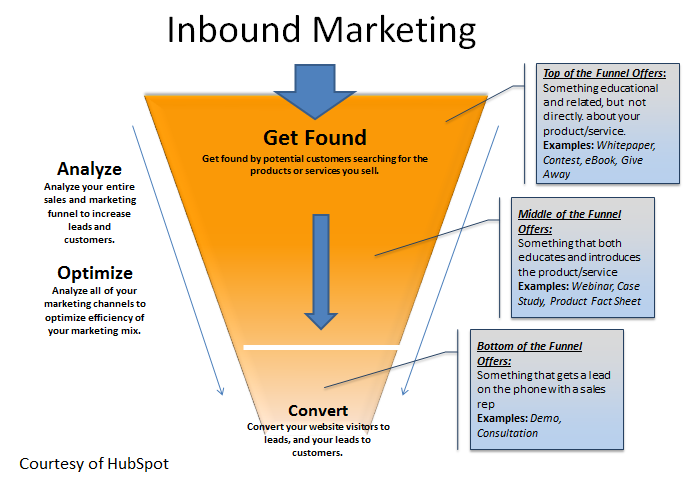 Optimizing your marketing funnel is not as hard as you'd think. Yours doesn't have to be a complex funnel, but it has to provide valuable content all related to a specific topic. You can take things to the next level with lead scoring and email marketing decision trees, but if you're starting out focus on great content to draw people in.
Blog signups are a great way to get the ball rolling, but be sure to make your audience an offer they can't refuse. Offering downloadables on highly specific legal topics is a good way to attract leads. Simply offering readers the opportunity to subscribe to news from you isn't as attractive an offer as it used to be.
3. Get data smart
One of the things I love the most about digital marketing is the ability to track and measure everything that we do. Data and analytics are such an important part of our strategy that I've made it one of my core responsibilities, and you should consider doing the same.
Data doesn't lie, and being able to track and measure your content's performance can help you play to your strengths and develop more of the right content where you haven't.
If interpreting your web data and analytics is something you've shied away from, trust me, you can become an expert at it. You can learn everything about digital marketing online.
Google Analytics is a powerful tool, and there's a good chance that your firm uses it. If you're not able to make sense of your traffic, you should upskill yourself through Google's Analytics Academy. They do an excellent job of distilling complex concepts and offer four courses you can dive into. And hey, if you don't understand anything, Google it!
The legal industry is moving through trying times, and legal marketing has to evolve to capture the attention of prospects in a crowded and price-sensitive market. Catching trends and developing strong core content, optimizing marketing funnels and focusing on data and analytics will help you produce stronger marketing results.
Today's download: proposal and RFP software that's a life saver for legal marketing & BD teams
See how Qorus helps Kramer Levin's Marketing and Business Development team increase pitch output by 25% while spending 30% less time creating and managing content in this short case study.