Every year since 2012, Scott Brinker has been compiling the Marketing Technology Landscape Supergraphic. If you've been paying attention to each release, you know that there's no shortage of tech to add to your marketing stack.
This year's report showed 40% growth in new martech, with a total of 5,381 solutions now on the market.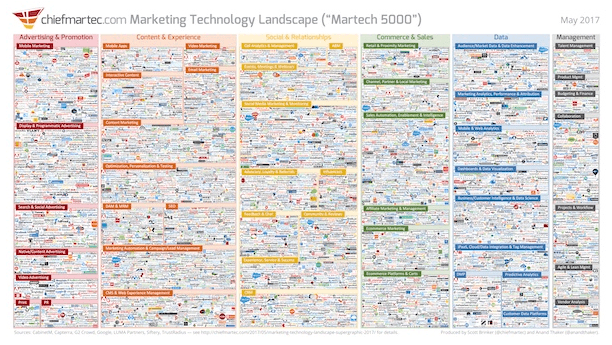 Marketing Technology Landscape Supergraphic 2017 by Scott Brinker. Get the PDF here.
As a marketer, thinking about digital transformation and where marketing technology and customer experiences meet, is something I've been doing for a while, as I imagine you may have been too.
Most of my thinking has been around efficiency. How do I get the most out of what I currently have? How do I make sure that my customer is always at the heart of everything I'm doing? How do I keep our brand experiences inviting and satisfying from that first point of contact and beyond the sale? These and other questions are what I constantly keep in mind. They've helped me pick the right tools and also focus on results-driven activities instead of chasing metrics without context.
If you're planning your martech stack for next year, here are my thoughts on how to ensure that you choose the right solutions for the right results.
Get better at understanding the problem first
There's no shortage of tools that you can use today, but that doesn't always mean that you need another tool just yet. In my opinion, the data you collect is gold, and this is where you should focus your attention. It gives you insights into what your business looks like.
Budgets can always be larger, but in some cases they shrink. It happens, and if it does, you'll need to be more creative and focus on understanding problems that prevent you from achieving the desired result.
For example, if one of your KPIs is to generate more sales with the same budget, buying a new tool won't solve the problem right off the bat. Instead, you could focus on optimizing your conversion rates by tweaking your content and improving the user experience.
This way, you're able to figure out why your visitors are not converting and plug that hole before spending more money on a new tool that will take time to learn or traffic that that won't convert at a higher rate.
Build a martech stack that tells a story
It all starts with the customer. As marketers, our goal in today's digital era is to produce experiences that are aligned with the digital customer's journey. If you keep that journey at the forefront of your mind, you'll be able to generate the right results.
Your marketing technology stack should place your customer at the heart of your marketing efforts. It should help you produce data that tells a story about your customers and how your brand is helping them find solutions to challenges they face. The more intimately you know your customer, the easier it will be for you to develop a journey that results in more conversions more often.
With a more intimate understanding of your personas, you'll be able to solve other marketing challenges.
For example, if you've been running a Facebook ad campaign and your conversions are low, a new tool can't tell you that you have an ad scent problem. All you'll know is that your conversions are low. This is where your knowledge of what matters to each personas will help you make them an offer they can't refuse.
Learn how to interpret data from different sources
It's common to outsource SEO and analytics to an agency. If you're doing so, be sure that you know which tools your agency is using and how to interpret the data that they're producing for you.
Today, CMOs need to know how to interpret data. For example, your analytics attribution reports tell a story about the interactions that your customers have with your content. Without an understanding of how your customers are interacting with your content and what leads them to buy or not at all, you won't be able to make the incremental tweaks that can produce massive results.
Digital transformation will take time, so play to your strengths
In December 2014, CMO Magazine published the results of their annual predictions for 2014, all made by marketers. At that stage, digital transformation wasn't mentioned by anyone. Fast forward to today and it's on the lips of every marketer, and for good reason. The idea of being able to offer highly optimized customer experiences is always going to be attractive.
But to manage digital transformation, you'll have to rely on two important elements: money and time. Digital transformation requires money for the technological investments, and time to train and get people on board and see results.
Digital transformation is all about driving efficiency, but if your human capital isn't using the technology or not using it as well as they possibly can, you won't be able to get the results you need.
If you're in a position where your budget allows you to invest in a new tool, here's how I recommend that you approach your transition:
Play to your strengths

while your staff are learning the ropes on the new technology. For example, if you're getting results with social media advertising, dig deeper and find out why you're getting such great results. Then, try and double your success.

Set a deadline

by which you and your team need to be power users of the new tool. There's a reason why they're called power users. Mastery will mean that your team can do more faster, becoming more efficient.

Experiment

. Marketing is a science, from the messaging to conversion rate optimization and beyond. When your team of power users is ready, commit to experimenting and finding new ways to get better results. If you're not doing so, you're not going to be able to find ways to stretch your budget or have that 'Aha!' moment.
Marketing in 2018 is sure to get more interesting, with new tools that offer new ways to do more. As marketers, keeping your customer at the heart of your marketing effort ensures that you produce experiences that drive results. As you plan your marketing technology stack, remember that the tools you choose all need to help you tell a story about your digital customers, where they've been and what appeals to them. Get this right, and your results are bound to be positive.
eBook download: Modern marketing in the real world
As winners of the Microsoft Partner Customer Experience Award for 2017 and being ranked 8th in the Microsoft Top 50 Inbound Marketing Excellence report, we know that it takes a lot to create great customer experiences that produce results.
If you're struggling to blend your martech with strategy, download your free copy of Modern marketing in the real world and learn how we did it.