Have you seen these stats?
16% of B2B annual budgets are dedicated to creating new content to support sales. This includes data sheets, presentations, proposals, case studies and white papers (ITSMA).

60% to 70% of the marketing collateral created to aid the sales process goes unused by salespeople (Sirius Decisions).

Staff can spend as much as 1.3 hours a day searching for and gathering information (McKinsey Company).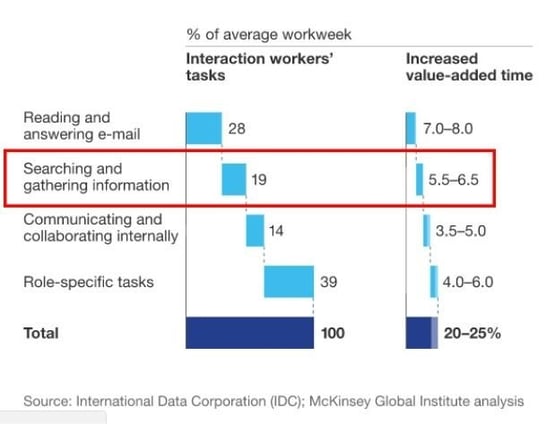 Truth is, there's another side to numbers. Sales opportunities are lost due to inaccurate and outdated information sent to prospects, as well as the lack of relevant content that can be used by prospects in the consideration stage.
But loss doesn't stop there. If you lose an opportunity for these reasons, your brand also loses credibility in the eyes of the prospect.
If you're a sales leader, looking at these stats might be enough to make you wonder whether your organization is plagued by the same inefficiencies. You may also be asking yourself how you'll begin to plug the hole that's haemorrhaging cash and causing your sales team not to be as successful as they can be.
Sales team productivity, the sales process and technology
Just under a decade ago, the CRM market was already big business. In 2007, market revenue was estimated to be just over $8.1B. Today, the industry is seeing more demand than ever before, with a forecast of $36.5B in 2017 alone.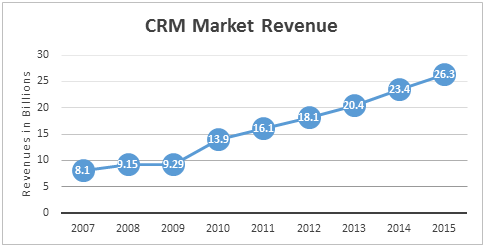 Features are stacking up and in an industry growing as rapidly, there are features that every CRM should have. In fact, Compare Business Products listed the following top 9 CRM 'must haves':
Simplicity and ease of integration

with other tools that your team works with daily

Remote access

to suit team on the road, whether at a trade show or customer premises

Mobile access

through handheld devices for convenience

Stronger multichannel support

for customers. This includes online chat, email and telephone options

Integrated analytics

to support better decision-making

Campaign management

through marketing automation to support sales processes

List management

for seamless segmentation to drive strategic sales activities

Flexibility and customization

of fields and reports to meet business requirements

Lead management

and follow-up tracking to ensure sales processes and leads are managed effectively
But with all of these features, sales acceleration largely remains a challenge that CRM solutions are not addressing.
Today's sales process is little different to what it was a decade ago. Digital marketing changed it all. We know that 63% of people requesting information on your company today will not purchase for at least three months – and 20% will take more than 12 months to buy.
We also know that buying decisions are not made over the phone; they're made by a group of people in boardroom meetings that your sales team cannot attend.
How Qorus increases sales team productivity
Qorus set out to address the modern salesforce productivity challenge with Qorus Breeze, a powerful piece of technology that effortlessly connects your marketing team's content with CRM insights in order to optimize and accelerate your organization's sales process, and the new Qorus and Office 365 Plugin, a lightweight tool that helps sales teams find and use business-critical content faster.
Here's how Qorus gives time and control back to your team:
One place for business development-related content. Your team gets to save time usually spent on searching for content because it's accurate and all in one place waiting to be used, not outdated and scattered across individual computers.

Your CRM gets an upgrade because Qorus Breeze is able to integrate with it to automatically create generic content for your sales process.

Your persona content and sales stages are mapped within the Opportunity view of your CRM, giving your sales team the right content at the right stage of the sales cycle and saving your operation hundreds of hours a year.

Proposals and pitches become more accurate with the use of pre-approved content.
If you want to modernize your sales approach and help your team get ahead and stay ahead of time-wasting activities, sales acceleration software like Qorus Breeze and the Qorus for Office 365 Plugin can help you do so.
Your team will be able to manage the sales cycle more confidently, efficiently and effectively. When the doors are closed and your prospects are deliberating, they'll have the right content to make informed decisions.
Case study: See how Qorus and DocuSign helped SharePoint Revolution speed up document creation, agreement and approvals by almost 150%. Download the case study below: