Looking for great PowerPoint 2016 templates design tips? You've come to the right place!
This blog post is for anyone who works in PowerPoint 2016 and wants to learn how to design winning presentation, proposal and pitch documents..
PowerPoint is one of the most widely used presentation design applications, and has been ever since its release towards the end of the 1980s. Few people know this, but the earliest version of PowerPoint made its debut as a "Presenter" and was originally released by Apple Macintosh. It later became a Microsoft application through acquisition.
Why these PowerPoint 2016 template design tips matter
PowerPoint is great for designing presentations, pitches and proposals because it offers easy-to-use template design features that save tons of time, especially if you produce presentations daily.
However, most people don't know how to create presentation templates the right way and waste precious time trying to recreate presentation layouts, formats, and color themes.
PowerPoint can be a highly efficient tool when used correctly. In fact, it works so well that our legal pitch management solution clients choose it over tools like InDesign when creating pitch, proposal, and presentations of their own. They've found PowerPoint so easy and versatile to use that they can produce more proposals, pitches, and presentations in less time.
These tips will show you how to use the important template-related features, such as setting up Slide Masters, Custom Layouts, Color themes, and more. We'll also give you design tips to help you produce slides that are visually appealing without sacrificing content quality or time.
If you don't have a dedicated in-house designer or can't wait for one to get to your request, these tips will help!
About your expert
At Qorus, we work with Visual Content Specialist, Anton Linstrom. He's been kind enough to share his tips on creating winning PowerPoint template designs. We hope you find them every bit as useful as we do.

Design fundamentals
Before we dig into PowerPoint's feature set, it's a good idea to review a few design fundamentals.
Designing your next PowerPoint slide deck is more than an opportunity to showcase your design skills; it's also a chance to leave your prospect with a good idea of the value your organization can offer.
Incorporating basic design fundamentals goes a long way towards creating a visually appealing and easy to understand body of information.
Here's a brief guide on using contrast, repetition, alignment, proximity, and white space to produce your very best presentations.
Contrast
Contrast is created through the arrangement of opposing elements to separate an object or draw attention to it. Contrast can be made in various way, from the combination of a bright and dark color, pairing a rough and smooth texture, using objects of different sizes, incorporating different shapes, to the positioning of two elements in relation to each other.
Creating contrast with color
Color is often one of the first elements that is used to create contrast. As a rule of thumb, make use of a color wheel to establish your color palette. In most cases, your brand colors will suffice, however it's a good idea to look to a color wheel for guidance, especially if you want certain colors to stand out more than others in your presentation.
Tips on using color
Colors on the opposite side of the color wheel are high contrast color, while colors close together have a lower contrast. When superimposing text onto a background, using high contrast colors makes it easier to read the text.
Creating contrast with texture
Texture can be used by pairing a rough surface with a smooth one.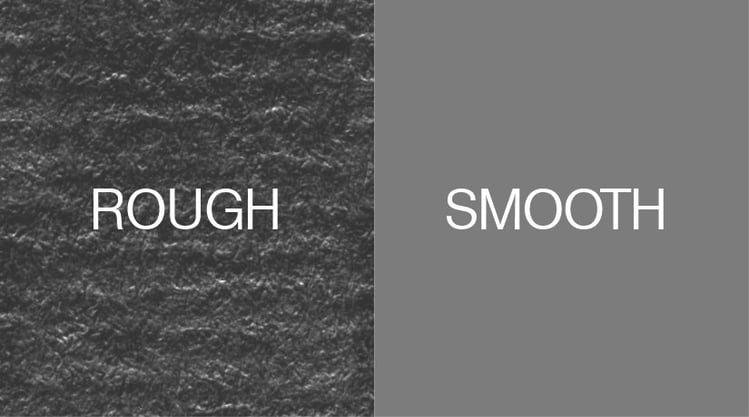 Creating contrast with size
Size is often used in graphic design to convey the importance of visual elements. For example, large, bold text will stand out and be clearly recognizable as an important element
Heading
Body text.
When creating header and body text, ensure that you size each proportionately to show which should capture the reader's attention first.
Creating contrast with shapes
Shapes are used to lead the eye or organize information, which is why articles in newspapers, on well-designed websites and presentations appear in block format.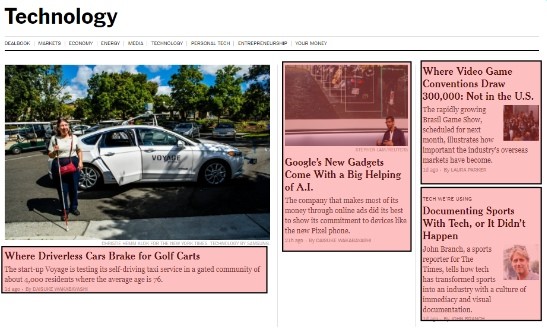 Tip: Arrange your presentation text boxes so that they do not overlap.
Repetition
Repetition is used to create a sense of harmony and balance. This is achieved through the consistency of certain design elements.
Tip: You can achieve repetition using the same background and typography, or by introducing new sections of content in your presentation with solid blocks of color.
Alignment
Alignment refers to the lining up of top, middle, and bottom design elements and text. When it comes to designing your presentation, arranging elements in a way that matches how people naturally scan a page makes the content easier to understand.
Tip: Once you've established the alignment of elements, maintain the format throughout your presentation to create a consistent look and feel.
Proximity
Proximity relates to the placement of elements in relation to each other. For example, the closer a heading is to the paragraph below, the more it communicates to the reader that the heading and paragraph directly relate to each other. A good use of proximity also makes the reading experience more pleasurable.
Tip: Use proximity uniformly within your slides to make your content simpler for the reader to read and understand.
White space
White space, often referred to as negative space, is the portion of a page or canvas left unmarked. The unmarked areas in any design help other design elements stand out more and, in some cases, make the overall composition appear elegant.
Tip: As you design your proposals, use white space on each slide to make content stand out and easier to read.
Working in PowerPoint 2016
PowerPoint has a slightly different layout than that of Word. While most elements are present, you're working with slides as opposed to pages and with a little practice you'll be able to easily navigate PowerPoint.
Getting started
The first step to building your template is becoming accustomed to using the Slide Master feature. The Slide Master is located under the View tab.

A Slide Master is where you'll set the look and feel of each element that will appear in your presentation. These elements include title fonts, body fonts, bullets, the position of images on slide layouts, footer text, and slide background colors.
Slide Masters are handy to use for the following reasons:
Once designed and distributed to others, users won't be able to make changes to slide layouts as all updates are controlled from within the Slide Master

If your organization changes the look of its presentations, updating all slides with the new look and feel can be achieved by updating the Slide Master
Set your slide size
The default slide size is widescreen, but you can select the size that best suits your design requirements.
To choose your slide size, click on the Slide Size icon from within the Slide Master view and look to the right of your screen for the Slide Size icon.

Next, click on Custom Slide Size to choose your slide size.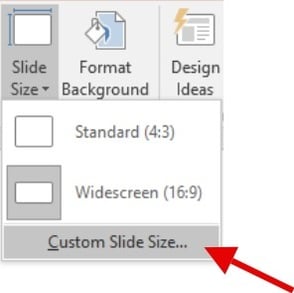 If you're designing a proposal, select A4 Paper or use Letter Paper.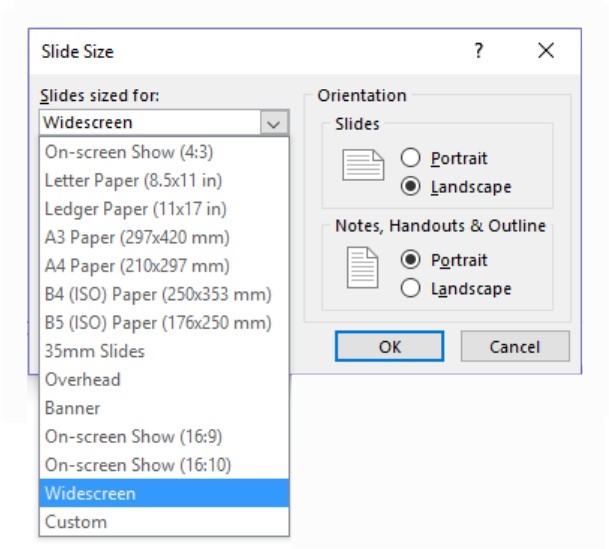 Once you've selected your slide size, click Rename to rename your custom Slide Master.

Give your custom Slide Master a new name, and close Master View. After closing the Master View, PowerPoint will show you the Normal View with one slide.
Customize your theme
Under the Design tab, you'll note several pre-installed themes. To create your custom theme using your organization's colors, click on the Themes button while in the Slide Master view.

You'll be presented with PowerPoint's pre-installed themes.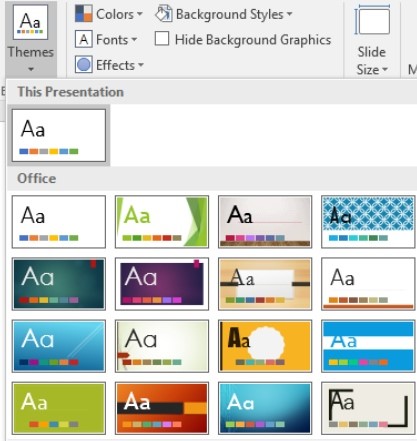 If you don't have a theme that uses your organization's colors, you can simply create one by selecting a design and customizing its colors, fonts, and effects.
How to customize colors
Click on Colors, then select a color palette.
Click Customize Colors and change the colors of the theme elements.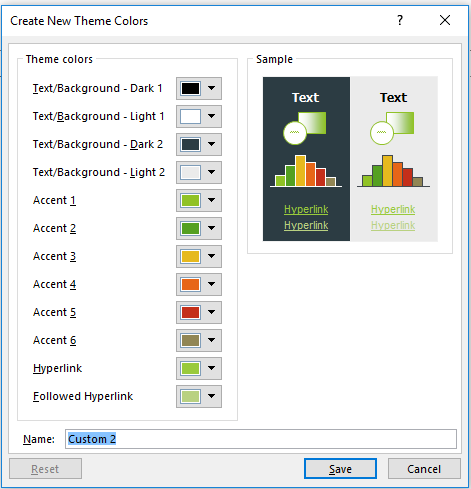 Once you've customized the theme colors, name and save your new color theme for future use
Working with color
If you don't have RBG or hexadecimal color values of your company colors, matching them in PowerPoint or any other design application will be a challenge.
Using a tool like Colorcop makes it easier to pick the exact color values for your presentation.
How to customize fonts
Click on Fonts and choose the font you'd like to use.

Note: You can also update the fonts on the Slide Master itself by highlighting the text and selecting your font. All updates to fonts in your Slide Master will be applied to all Slide Layouts within the Slide Master.
Tip: When designing presentations, try to use San Serif fonts (a category of typefaces that do not use serifs, as in small lines at the ends of characters) as they are easier to read on screens.
Example of a Serif typeface: Times New Roman
Example of a Sans Serif typeface: Arial
Select Effects
Effects include shapes and arrow that you'll use in your presentation. Choose your effects design style by clicking on Effects and selecting a style.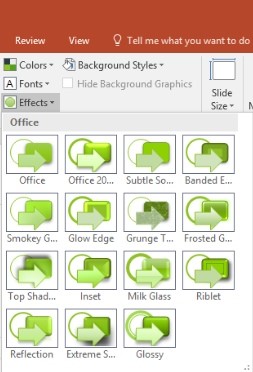 Once you've customized the theme, name and save it for future use. To save your theme, click on Themes, Save Current Themes. Rename your new theme and click Save.
Having created your new theme, you will automatically see all updates on the Slide Master. As these are new updates to your Slide Master, click Close Master View to save all updates.
Further customization
PowerPoint also allows you to edit fonts, bullets, and the position of elements on each Slide Layout within a Slide Master.
To customize any element, click or highlight the element and customize it.
About Slide Layouts
Slide Layouts appear in Slide Master and can be customized individually. By default, PowerPoint 2016 has 16 different Slide Layouts, however you can create a new slide layout.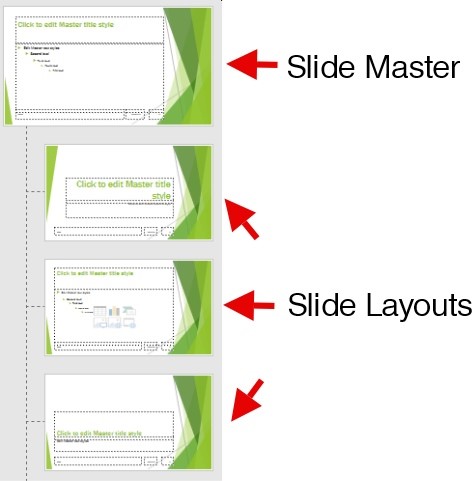 To create a new Slide Layout, click Insert Layout.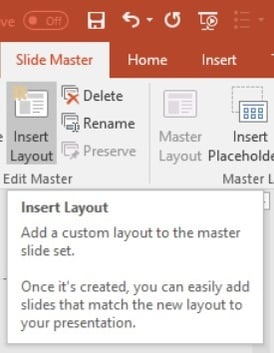 Your new slide layout will be placed at the bottom of the Slide Layouts or above the Slide Layout previously selected.
On working with images
Most presentations are designed with high-quality images that tend to increase in file size. As a rule of thumb, try to keep your file size to less than 1.5 MB. Here are three ways that Anton recommends:
Swap out high-quality images for compressed JPEGs.

You can also compress image files using a free online tool called

compressor.io

. It's powerful and supports JPEG, PNG, and SVG files. Stick to JPEGs as they are typically smaller in file size.

Use solid colors as background instead of images
Conclusion
Designing templates in PowerPoint 2016 takes a little practice, but once you understand how to use PowerPoint's styling features, you'll be able to save time and produce more winning proposals, pitches, and presentations faster.
Looking for handy tips for Word 2016? We've got you covered!
Download our tips for designing a winning proposal in Word 2016.