Working smarter always beats working harder. But it isn't always easy to create the type of environment where people are empowered to work smart. How do you make time to improve processes when deadlines are tight and people are over-worked?
In this post, we share some tips for getting started, and it isn't that difficult. Simply creating templates for reusable content can make a big difference, enabling people to work smarter, saving time, and improving consistency. Our goal is to help you take a fresh look at how you manage your content.
At this year's Microsoft Inspire event, one of the best sessions I attended was dubbed "50 Smart Partner Marketing Tips in 50 Minutes". One of the tips that caught my attention was to create and store handy content templates. Now, as a content manager and strategist, I'm no stranger to the pitfalls of poor content management and how it can bring everything to grinding halt. Poor content management can be a productivity killer for an entire organisation, especially for sales, marketing and bid teams.
Before we dive into my tips for better managing your content, I want to spend some time exploring the risks associated with not doing this.
Delayed and inaccurate marketing and bid content
Marketing and proposal teams both work with tons of content on daily basis, and much of it is reusable. Without a central repository of approved, templated copy, these teams become highly inefficient. Rushing the writing process, and skipping editing and proof reading, leads to typos and inaccuracies that can cause serious damage to your brand.
A slower sales process
Every salesperson wants to be in complete control of moving deals along the sales process. And of course, they want these deals to progress as quickly as possible. Searching for and rewriting content slows down the entire process, and using incorrect or outdated content can cause even bigger problems.
A poor customer experience
Consistent messaging helps potential customers understand what you do and why they should work with you. If you leave it up to people to write their versions of important content, you risk confusing and alienating your customers. Also remember that you need to create consistency across the sales funnel. For example, does your website messaging match what's in your proposals?
Creating content templates takes care of these and other challenges that add to the unnecessary stress of doing business.
How to manage your content better
Now that you see the value behind creating templates for your content, here six tips you can use to turn your content management woes into wins.
1. Create small content templates as opposed to full documents
Often, people only need little snippets of content at a time. When responding to questions from perspective customers for example, most can be distilled into a set of canned responses. One of the best ways to drive efficiency (and consistent messaging) is by creating a set of FAQs that people have easy access to.
2. Use consistent formatting in all Word & PowerPoint documents
Creating branded and templated documents that people can add templated content sections to, can also make teams, expecially sales and bid teams, more productive.
For example, one of our clients - international law firm Kramer Levin - switched from Adobe InDesign to PowerPoint for pitches and proposals. The marketing team was able to streamline its graphic design process and reduce document formatting time by 30%.
3. Create a centralized library with super easy search
All the templated content in the world won't matter unless it's saved in a secure place that's easy for everyone to access. When you create your centralized library, be sure to give everyone relevant user rights to all folders and files they need. This will remove barriers to your new library.
4. Label content with search in mind
People search for subject matter in different ways. As you design your content library, make sure that you label folders and content as accurately as possible, including type, industry and date.
5. Discourage people from storing content on their desktops and servers
Employees often save different versions of documents on their computers and company servers. The result is an increased risk of inaccurate and outdated material making its way to prospects and customers.
Be strict about where people store content, and let them know that your library is the best place to find up to date material. A good way to do this is to send out a weekly email, highlighting updates and new content. In your email, always include a link to the centralized library so that people can access it easily.
6. Use smart tools to find and re-use content fast
We've created a helpful app for Office 365 users who store content in One Drive for Business or SharePoint Online. The Qorus app includes plugins that'll help your team find and compile emails, documents and presentations faster.
Document Builder for Word, Slide Builder for PowerPoint and Email Builder for Outlook each allow you to re-use your best content in seconds. Each plugin comes with a search bar to help you quickly and easily find content (using keywords) and then insert what you need into your working document or email.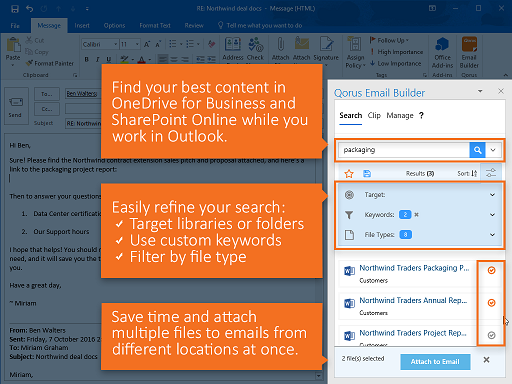 Qorus Email Builder for Office 365
Conclusion
Creating a more efficient workplace with the use of templated content and smarter content management takes a little effort, but once you get going the results will pay off. Your people become more productive and customer experience becomes a competitive advantage.
Bridge the content gap between sales and marketing
Content creation can be a tricky business. Sales may feel that your best work is subpar and that they never have enough useful collateral to send to customers.
In this ebook, we share compelling survey results that highlight the gap between sales and marketing, offer five ways to bridge the gap, and feature commentary from Jen Sieger, Director of Worldwide Inside Sales at Microsoft, Dunya Riechelson, President at Allytics, and Natalie Steck, Senior VP of Global Sales at Qorus.
Download your free copy here.