If your organization is like many others, you have already invested a fair amount of time and money in marketing and sales technology, and rightly so.
The right marketing technology stack – including content management, digital asset management, and marketing automation systems – enables you to consistently attract potential customers at scale. And the right sales technology stack – including customer and partner relationship management systems – enables you to accurately forecast and grow your pipeline. Both stacks are key to growing your business in today's digital world.
But unless you're also building an effective sales enablement technology stack, your company could be losing deals. This is because your sales team probably lacks the information and processes required to convert prospective customers into buyers in today's digital-first world. They're looking for helpful, detailed content that's highly personalized (by region, industry, sales stage, and more).
58% of the deals in your pipeline will stall because your sales reps are unable to add valuable content tailored to each sales stage. ​(SiriusDecisions) ​
Sales enablement technology plays an essential role in the consideration and evaluation phases of the buyer's journey, where they need to see relevant business cases, case studies, pitches, proposals, and RFPs. In fact, this phase is a "make or break" one for most deals.
Read more: What is sales enablement?
According to Forrester, organizations that use sales enablement software see:
higher sales productivity and performance
better collaboration
ability to delivery personalized experience
better alignment between sales and marketing
larger order values
better recruitment and retention of sellers
more cross-sell and upsell opportunities
The sales enablement tech landscape is big! And it's growing every day, as new solutions and platforms are developed to help companies improve the way they understand, reach, and talk to prospects.
How does Qorus fit in?
Qorus is a sales enablement and proposal management platform that helps companies to easily create, collaborate on, manage, and track their business development content.
Here's where it fits: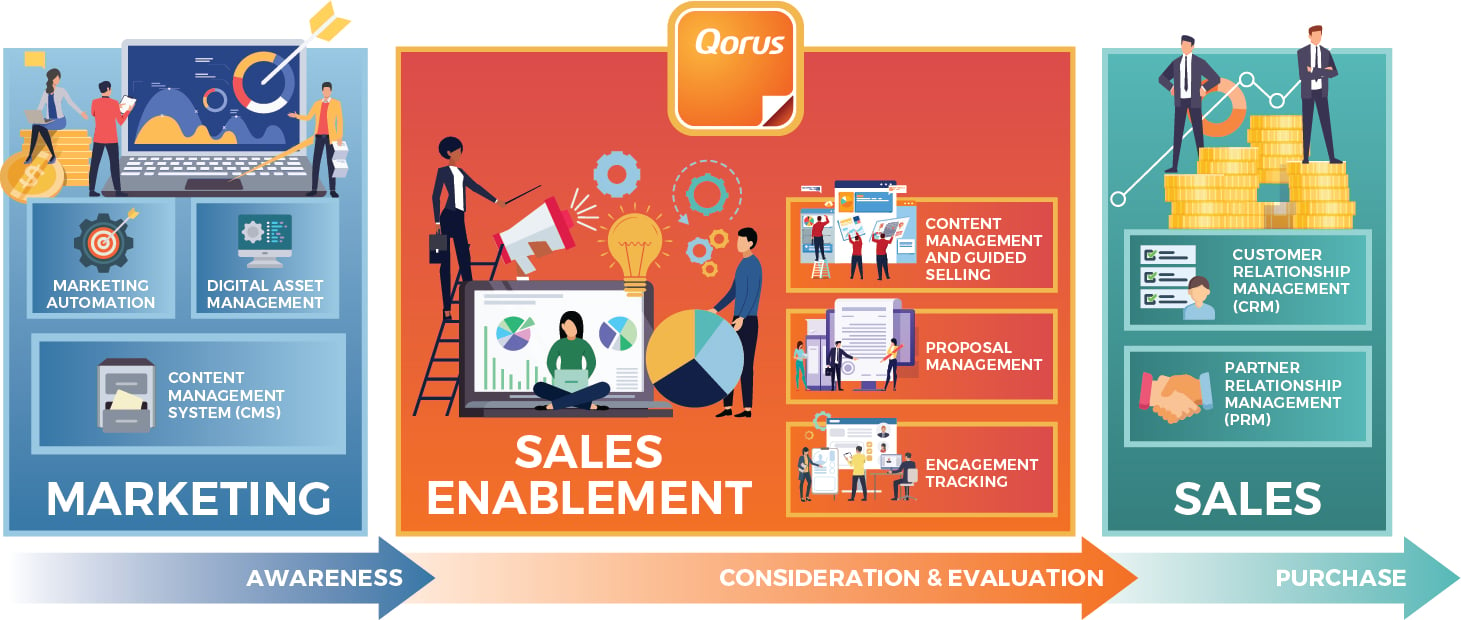 Qorus assists during the consideration and evaluation phases of the buyer's journey, integrating relevant business cases, case studies, pitches, proposals, and more for the buyer's unique needs.
Three key features of Qorus sales enablement technology
Content management and guided selling

Qorus is a single source of truth for sales content such as pitch decks, proposals, FAQs, case studies, and RFP responses. Keeping all your content in one place ensures that it's easy to locate and to work with. This saves time while ensuring that your sales team is only sending prospects the most recent, approved and best-suited content.

And it goes even further by adding highly intuitive and simple search functionality, intelligent data and automatic content updates (where relevant documents like pitch decks and proposals automatically reflect any changes to source messaging). Features like this ensure that your company is producing sales enablement content that is actually getting used.

Proposal management for bid teams and sales teams

Qorus empowers your bid and proposal management teams. Pitch and proposal content is easy to locate and personalize, with powerful search functionality, easy personalization and collaboration tools, and an intuitive user interface. And your entire sales force can use it to build customized, professional, engaging proposals in minutes rather than hours.

Of course, it's designed to support a remote workforce (this is non-negotiable these days).

Engagement tracking

One of the most innovative features of the latest sales enablement tools, including Qorus, is their ability to track prospect engagement.Built-in measurement tools track user behavior to find out which content the recipient is most interested in, how much time they spend on each page, what they're clicking on, and what they're sharing. This is a great way to gain valuable insights to create smarter follow-up materials and close deals faster.
The benefits various industry leaders have seen using sales enablement technology
In the six months from their international launch of Qorus, global information technology company, Hitachi Vantara has achieved over $2.5m in savings, and estimate that this saving should close to triple that before reaching the 12-month mark. Head of Strategic Bid Management, Neill Wilkinson, shares: "During the nine years that I have been in Hitachi's bid management group, I have seen what it takes to close deals. Experienced people, quality content, and the right tools all form part of success. Using Qorus enables our users to find high quality, up-to-date and verified proposal-ready content in seconds and minutes instead of hours."
After introducing Qorus, Genetec - a Canadian provider of video surveillance - immediately saw an improvement in the speed at which it could find content and respond to bids, reducing turnaround time and allowing the team to get to market fast. Bid Content Manager, Karen Bleakley says: "Since implementing Qorus for our content, the Bid team has seen significant gains in productivity when responding to bids. With Qorus, the Sales team leverages the same quality content to work with our partners on proposals as well. This has resulted in presenting a 'Genetec proposal' to the marketplace."
Premier law firm, Kramer Levin, has become even more efficient in turning around drafts after integrating Qorus with their CRM system. Having everything in one central location saves them a huge amount of time. "Our business development and marketing team has benefitted greatly from using Qorus. We've experienced definite improvements in the management of our content and the speed at which we're able to put together pitches. We're able to search for and find content easily, stay organized and respond quickly," says Business Development Specialist, Matthew Loomis.
Sales enablement technology enables your organization to win more business
The faster your team can respond to a sales inquiry, and the more relevant the information you share, the better your chances of closing the deal.
Your sales and marketing teams will both become more effective and productive, and your new customers will be impressed with your organization's competence and efficiency.
About the Qorus sales enablement platform
Bring your best minds and content together to create proposals that win. It is essential that your sales team has every tool available to respond to each new sales opportunity and win more business. With Qorus, you'll deliver customized proposals in minutes instead of hours, using pre-approved, and branded content. Gain valuable insights to create smart follow up.
Use Qorus' powerful recommendations engine to locate the perfect attachment in seconds without endlessly browsing through files. Search multiple content sources at once and use our filters to enable your team to find the most up-to-date and relevant components, even as your content library continues to expand.
Built on Microsoft Azure, you'll create secure, professional, and engaging proposals up to five times faster, all from within your familiar Microsoft Office environment or CRM system. Empower your salesforce with Qorus, designed to close more deals faster.