Investing in proposal management software is a big deal and IT, proposal and sales leaders need to know what to expect as they commit to simpler and more efficient ways of creating this business-critical content.
Unfortunately, failed IT projects are more common than most executives are aware. In 2016, technology consulting firm Geneca found that 75% of business and IT executives anticipate that their software projects will fail. Indeed, IT projects fail for a number reasons; anything from poor budgeting and planning that leads to scope creep, to a lack of the right skills and people to see the project through.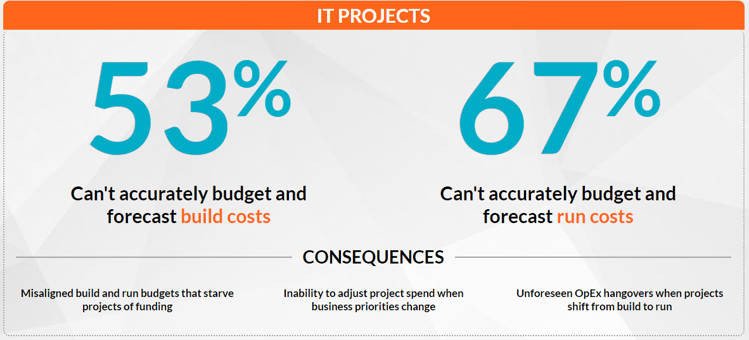 Source: Apptio.com
If you've been tasked with finding and rolling out a new proposal management software solution, this blog post is for you. Here are 9 tips for implementing proposal management software in your business.
1. Get management buy-in
Management buy-in is an essential component for integrating new technology. If you're already a C-level executive, you may need to convince the rest of the busy C-suite that your new proposal management solution will boost the bottom line.
But before you start any conversations, do your homework and make sure that you see the business from their point of view. See the challenges they face in their departments and present the solution in terms that help them to see the benefits clearly.
2. Leave no stone unturned
It's a given that the proposal software will be used by the proposal team and (hopefully) the sales team. It's important to get multiple people involved in the discovery phase. You'll need to figure out what their biggest challenges are and what their expectation of the new solution will be.
For example, your bid team may not have capacity to create standard, low value or less strategic proposals, so it would be a good idea if the sales team was able to use the solution. What do they require from such a solution?
Will they be creating proposals on the road? Will they need to have instant access to pre-approved copy to produce proposals? How likely are they to adopt a complicated system?
3. Assign a project manager
Assigning a project manager has been proven to increase the success rate of your project. According to work management and collaboration platform Wrike, 80% of high-performing projects are led by certified project managers.
Using a project manager ensures that your project never skips a beat.
Often, businesses assign projects to "the most capable employee", however this can prove to be problematic for a number of reasons:
The additional workload creates more stress for the employee

If the employee has never managed a project of this nature, they won't be familiar with the intricacies that need to be considered, especially when it comes to interdepartmental requirements and workflows

If the employee has little or no project management experience, this could slow the project down considerably
If your business has to rely on an employee to manage the project, here are a few tips on how to make sure your project is executed without a hitch:
Shift the employee's workload to give the project the attention it requires

Create a project plan

Make sure you receive weekly updates

Ensure that every department is aware of the project and can lend a hand with information or resources to aid your project manager

Ensure that your employee is introduced to the vendor and that a line of communication is established
4. Customize to match your workflow
Ensuring that your new proposal management solution matches your workflow is vital. Existing workflows are used by all departments and if your new proposal solution drastically changes them, your business will suffer.
The learning curve that each department will experience will not only cause frustration, but could cripple your business's efficiency rate.
When we began looking at how to help businesses produce business-critical documents like contracts, sales proposals, bids and RFPs, we noticed that finding pre-approved and ready-to-use documents was a real challenge.
We realized that making businesses change their workflows meant that we'd produce a rigid solution that would create more pain. We decided to help businesses leverage their existing workflows by allowing employees to find the content they need from within the tools that they use every day, like the Microsoft Office 365 suite.
How Qorus helps businesses compile business critical document in minutes.
5. Collect your content
Making content easily accessible should be one of the requirements on your checklist. To fulfill this requirement, you'll need to create a list of all documents that need to be gathered. An easy way to build your list is by working out which content is required at each stage of each workflow.
Once you have a list of all your content, gather it and save it in a place that's easy for everyone to access.
6. Establish storage locations and folder names
This is a good time to choose the file names and folder trees that you'll use. If your staff have a habit of incorrectly naming documents and storing them in the wrong locations, this exercise presents the opportunity to change that.
The best way to build an easy-to-understand storage system is to whiteboard it. Involve the parties from each cross-functional team to ensure that the right content is stored in the right place.
7. Determine user rights
Smart business productivity software allows the assignment of user rights to control updates of critical documents and software features and functionality.
Create a list that includes all users and determine what rights they'll require to be able to use the software within their workflows. Consult with your vendor to ensure that you understand how to apply user rights.
8. Make staff training a priority
One of the most common reasons for failed IT projects is the lack of adequate user training. According to Dulian Inc., poor training can increase the risk of project failure by between 10% and 20%.
Work closely with your vendor and map out a training program that includes demos and access to a knowledge base for users.
9.

Stay in contact with your vendor

The customer-vendor relationship is just as important after the purchase of proposal management software as it is before the sale. Make sure you have a dedicated point of contact that will serve as your go-between for all issues.

At Qorus, we assign a customer success manager to every customer. We've found this role to be vital to successfully onboarding for new customers and ensuring that old customers never feel neglected.
Conclusion
Integrating new proposal software requires a hands-on approach that includes planning and assistance from cross-functional teams within your organization. The process may seem complex and labor intensive, but with these tips in hand you'll be able to tackle the project and make it a successful one.
Everything you need to know about pitch, proposal and RFP management software
Proposal software can appear to be complex, making it hard to find the right solution for your business. This guide demystifies it all. We share a decision-making matrix, a list of must have features to complement your workflows, how your CRM should work with your proposal solution, who needs to gets involved when you're ready to integrate your new solution, and more.
Download your copy here.