From software automation to central data systems, new technology can offer a monumental advantage to a law firm's proposal process.
'Digital transformation' might not have been the first thing that came to mind for most law firms several months ago. However, the global pandemic has accelerated the adoption of automation and innovative tech solutions for remote working, leading to new approaches in the way legal proposals are created.
In the third installment of our three-part legal webinar series, we invited industry experts to share how their firms are harnessing new technology to streamline systems and make proposal and pitching processes easier.
The webinar was facilitated by Jobst Elster, Head of Content and Legal Market Strategy for InsideLegal.com, and panelists included:
Catriona Robinson,
Head of Pitches and Pursuits, Marketing and BD – Operations and Systems at Hogan Lovells

Nora Navin,
Director of Pitch and Pursuit Excellence at Baker McKenzie
Thank you to our guest speakers for their time and the insight they offered in the webinar!
Webinar highlights
The webinar is filled with informative takeaways and key information, but here are some highlights from the discussion:
In our first 'quick poll', we saw that 34% of respondents had some sort of proposal automation or bid management software system in place. Exactly half the respondents had no systems in place, and 16% fell into an inapplicable category. Catriona suggested that this is unsurprising since automation is not an approach that firms have historically invested in.
However, she added that this is something that more teams are investing energy into now, and that we're currently seeing a much-needed rise of technology in the legal field.
Digital transformation and technology enable staff and lawyers to be more effective in their day-to-day roles
The right software can help reduce the time spent working on everything from pitches and proposals to daily client relationship management. When systems and data are available across functions, it allows everybody to 'sing from the same sheet of music'. Firms should be aiming to make overall visibility clearer, which will help streamline their processes, enabling everyone to spend their time more efficiently.
Having the same buckets of information offers firms a huge advantage
Our panelists discussed how important having a repository of central information can be. Ease of access and having a single, shared point of storage where all of the information lives is extremely helpful. If everything is updated and in one place, it makes finding information to put pitches and proposals together a smoother process.
When it comes to gathering content, firms should consider adopting a 'deep-dive approach'. As Nora explained, asking the right questions can offer valuable insights which can be used when pitching to clients.
Asking open-ended questions is hugely beneficial when it comes to processes for proposals
The panelists all agreed that engaging more with the client and encouraging lawyers and partners to interact with the client throughout the process is a crucial part of the customer experience. If an internal program is easy for everybody to understand, and there is room to explore different presentation methods, there is a better opportunity to build client relationships.
In the discussion, Catriona suggested that firms should consider adopting training programs to help streamline consistency across the firm. Wherever possible, if content and presentations can be built from broadly designed templates, it will help ensure brand elements maintain uniformity.
In a second 'quick poll', we saw that about a third (35%) of respondents' firms' volumes of proposals stayed the same, more than a third (37%) decreased, and only 22% increased.
Nora weighed in, offering that in her firm's experience, there were dips and then peaks in pitch volume, corresponding with where COVID was hitting in the world.
Watch the webinar
To learn more and hear the full conversation, you can watch the webinar by following the link below.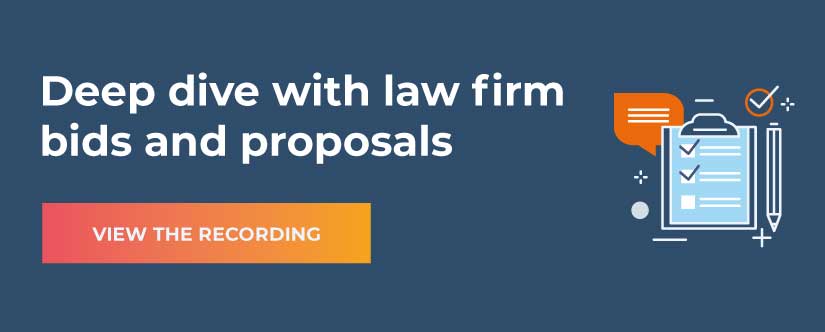 Missed out on the first two webinars in our legal series? Catch up below by following the link below.