At APMP's Bid Proposal Con (BPC) 2023, the world's largest in-person conference for proposal professionals, the QorusDocs team was delighted to host a session, sharing insider secrets for professional services firms to help elevate their pursuits to the next level and close more client business. Read on for all the juicy details!
When we speak to pitch teams at professional services organizations—whether law firms, human resources consultancies, accountancy firms, management consultants—we hear the same issues repeatedly. And the challenges are typically focused within the three consulting buckets of People, Process, and Technology.
Thankfully, the right proposal management software can tackle these issues head-on and keep the projects flowing. Let's explore how QorusDocs can help your professional services organization solve some of the biggest challenges you face in your pursuit process.
People Challenges
Partners are notoriously challenged when it comes to new technology.
Proposal teams and extended collaborators often don't know or understand what's important to the client in the pitch process.
QorusDocs Solutions
QorusDocs' user-friendly, intuitive interface simplifies the pursuit process for technologically-challenged users and tech-savvy bid and proposal teams alike, while helping you better understand what prospective clients truly value.
Embedded Microsoft Office experience means Partners never have to enter QorusDocs from outside of familiar Microsoft Word or Microsoft PowerPoint apps.

Assignments enable "click to enter" document at the point where edits/review are needed. 

With Microsoft Outlook integration, documents can be sent to clients easily, either via link or attachment.

Built-in measurement tools track how clients interact with your pitch documents (e.g., how long reader stays on each page, what they click on) to help you better understand client motivations.

Engagement analytics can help improve the way your firm communicates with the client and/or make improvements to pitch documents to improve client engagement.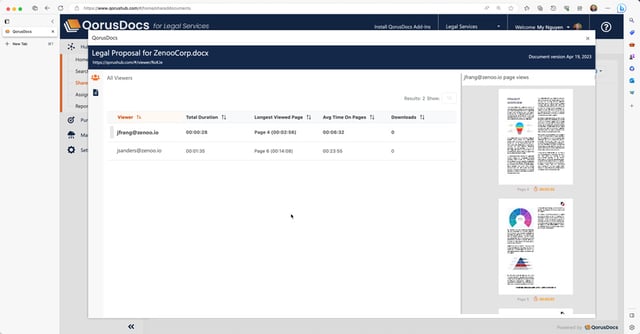 Process Challenges
Short timelines means there's little time to pass documents around the team for review.
Keeping track of edits and versions can be difficult.
Non-pitch team members working on proposals don't know how or where to locate the latest approved content.
QorusDocs Solutions
QorusDocs streamlines, simplifies, and accelerates the drafting, editing, and approval processes for pitch teams.
Assignments for review are made on a schedule and can be created simultaneously.

Changes are tracked; edits can be accepted or rejected; competing edits can be resolved by the document owner.

Status info is readily available, e.g., which document is active, who is working on it, who has and hasn't approved, when it's due, what needs to be done in order to complete the delivery workflow.
Multiple people can edit at the same time.

Auto Answer allows non-pitch team members to get the best approved answer.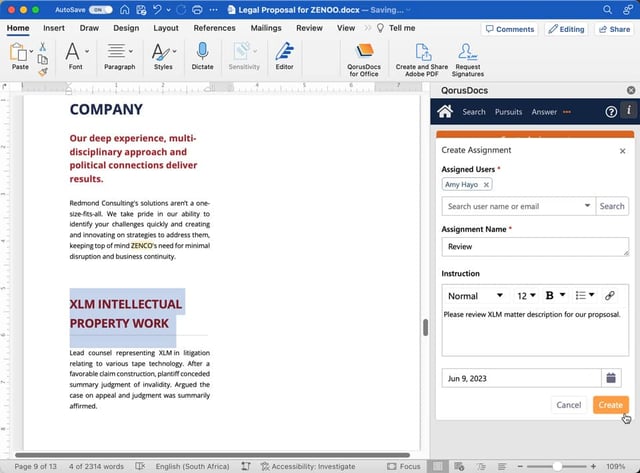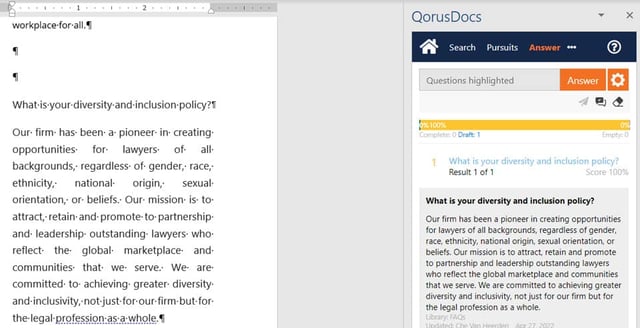 Technology Challenges
Lack of centralized repository for content (e.g., Bios, Experiences) impedes collaboration during the pursuit process.
Bios are frequently kept on Partners' hard drives.
Practice group teams and other content owners across the firm keep materials on their own SharePoint sites; content must be requested each time it's needed.
QorusDocs Solutions
QorusDocs' centralized content hub creates a single source of truth, providing users across the organization quick and convenient access to up-to-date, client-ready pitch material.
Knowledge libraries can be viewed from within the app
Content owners continue to own, but are updating in central location on a regular schedule

Content can be located elsewhere (outside of QorusDocs), such as bios with practice groups or service lines, or from a website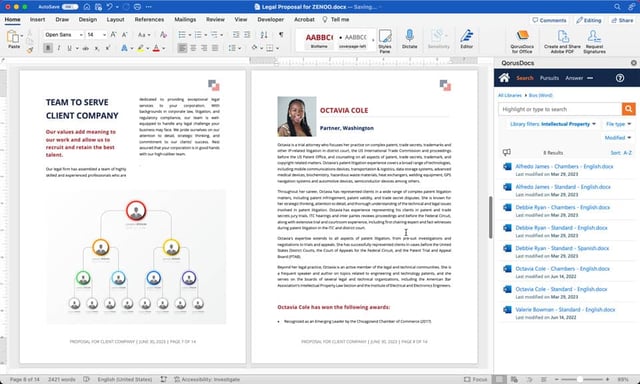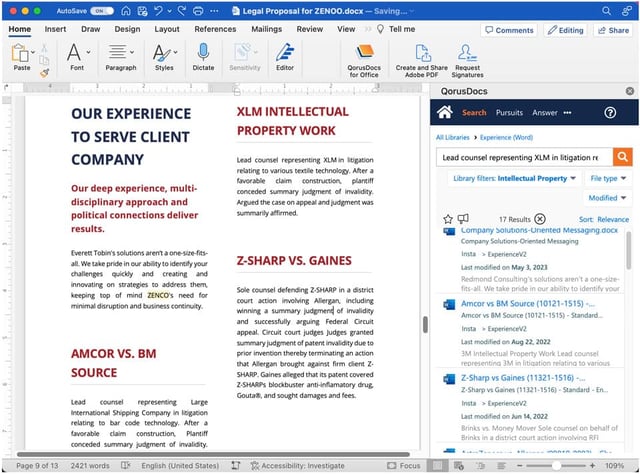 To find out more about how QorusDocs can transform your pursuit process by addressing the People, Process, and Technology challenges professional services firms commonly face, check out the QorusDocs Professional Services Resources Hub—an extensive collection of resources, tips, and tools curated specifically for the unique demands of professional services organizations.