Congratulations! Your proposal is a top contender and you've been invited to present to the client decision-makers, to delve deeper into your service offering or solution. But now what? Where do you begin? Are you ready to impress?
Don't panic! We're here to remove the guesswork out of your planning efforts and put you on the path to success with our practical Insider's Guide to Planning Great Presentations and handy presentation and placemat templates, designed specifically for professional services organizations.


Lay the groundwork for success
Client presentations are a pivotal piece of the pursuit process and a valuable opportunity to showcase your strengths. It goes without saying that the crux of a winning presentation is preparation—from deciding when to schedule your meeting (timing is important) to what to include in your agenda and who will speak on which topics. Ahead of the big day, you'll need to prepare supporting documentation (e.g., placemat, short deck) and determine communication protocols for the meeting.
Should you have a rehearsal meeting? What's the most impactful way to introduce yourself and your team? How do you best convey the value your organization brings to the table? These questions and more are answered in our Insider's Guide to Planning Great Presentations.


Presentation tools
Now that you've read the Insider's Guide and have a good grasp on what needs to be done to get ready for the client presentation, let's discuss the presentation tools you can use to ensure an engaging and rewarding meeting.
Although the meeting with the client selection committee is often referred to as a "presentation", think of it more as a discussion or conversation. Accordingly, you'll want to avoid shifting into full-blown presentation mode (projecting PowerPoint slides onto a screen with your laser pointer in hand is a no-no); instead, guide the discussion using a placemat or short deck. (A placemat is a document that lays out various important criteria or issues in a visually-pleasing manner.)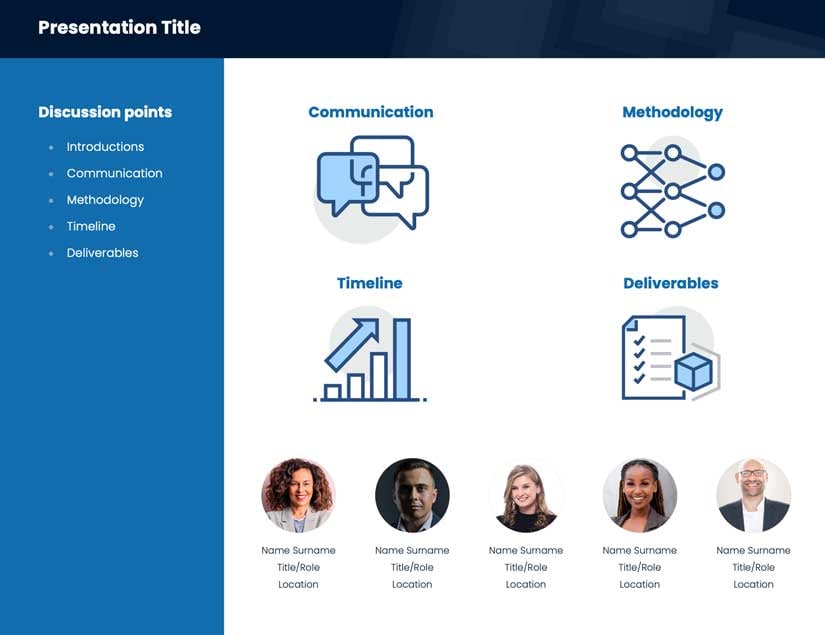 To help you craft practical documents to navigate your presentation to the clients, we've created a handy Template Guide for professional services firms, including sample layouts for both placemats and presentations with formatting suggestions and potential discussion topics.
The guide will help you develop a narrative based on client questions and points of interest, and also offers tips and tricks around introductions, communication, timelines, and value to help you knock your presentation out of the park.
Next steps
With the help of our Insider's Guide to Planning Great Presentations and our practical Template Guide for creating effective placemats and presentations, we're confident your client presentation will be a resounding success.
Still hungry for more info, tools, and resources for professional services firms? Have you checked out the QorusDocs Professional Services Resources Hub yet? This curated collection of resources is tailored to the unique needs of professional services organizations and includes a proposal management guide, a Pursuit Process Checklist for Professional Services, a range of downloadable templates, presentation tips, and more. 
Now go knock their socks off!