SoftwareReviews, a division of Info-Tech Research Group, has just released the Buyer Experience Report 2023 on proposal management software. Every year, SoftwareReviews uses its proprietary evaluation methodology—built on decades of experience helping businesses select software and focusing on real-life user feedback—to capture the most useful information on software performance.

The analyst group assesses key elements every prospective buyer should review and understand prior to selecting a software provider, diving much deeper than features and price to provide a detailed understanding of the relationship, negotiations, and value drivers of the solution.
QorusDocs scored high marks across all categories in this year's report on proposal management software. If you're considering adding proposal automation software to your tech stack and are wondering how QorusDocs stacks up against the competition, don't miss the 2023 Buyer Experience Report.
Let's take a look at some of the highlights from this year's report:

Value Delivered
We're pleased to report that 100% of QorusDocs users feel that our software is critical to their business success, with 94% likely to recommend it. In fact, 100% of customers said they love using QorusDocs and are planning to renew their license. We know—and are extremely proud of—how much our software helps companies of all sizes and across multiple industries streamline, simplify, and accelerate their response process to drive more revenue but it's rewarding to have it verified in the research.
Given that the underlying purpose of software is to create value for employees, customers, partners, and ultimately shareholders, any software selection should be aligned with a company's needs and deliver enough business value to justify the cost. Users of QorusDocs reported satisfaction scores of 86% when evaluating the business value provided to their organization.


We are innovators
When it comes to strategy and innovation, QorusDocs received high marks. A software provider's attitude toward innovation is indicative of their ability to keep pace with market trends and help you get ahead. QorusDocs scored an average of 96% in this category, a reflection of our consistent product innovation and feature enhancements.
"The Microsoft plugins allow us to quickly insert approved and up-to-date content from our libraries with customization."



-Matthew D, Manager, Sales & Marketing
We help you succeed
SoftwareReviews' research confirmed that QorusDocs drives performance and productivity. In fact, we scored a standout 98% in this category, confirming our ability to scale response production to accelerate deal velocity and boost win rates. Users said QorusDocs proposal automation software enabled productivity, enhanced performance, met security protocols, and was reliable yet offered unique features.



People love our features!
When asked to rate their satisfaction with the core features of QorusDocs proposal management software, we're honored to report that QorusDocs users sang our praises. We scored in the 85th-90th percentile for proposals & SOWs, document management, integrations, tasks and workflow management, content residency, smart layouts, templates and more.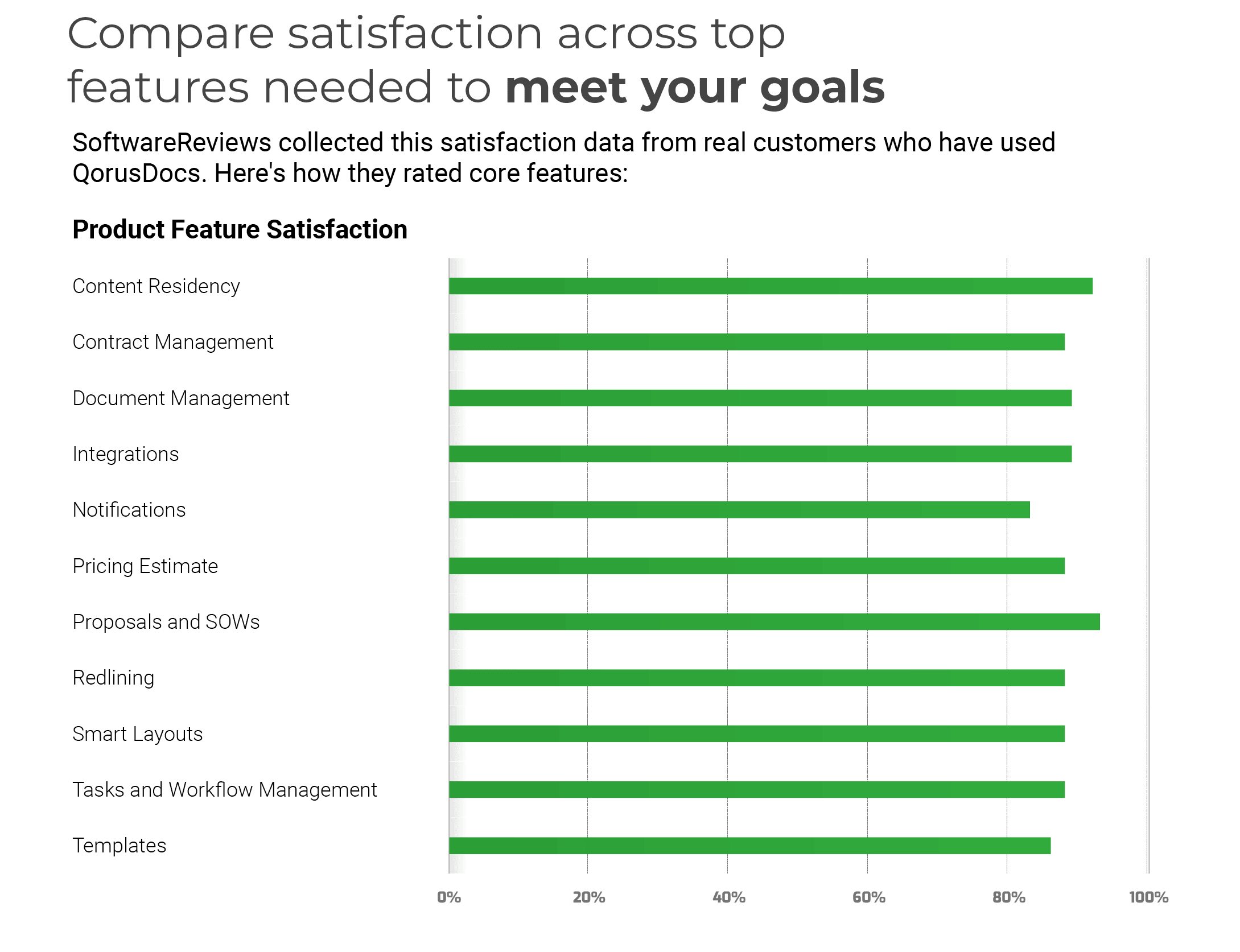 Find out more details about what makes QorusDocs' AI-powered proposal management software stand out from the crowd in the complete 2023 Buyer Experience Report: Proposal Management Software. If you're interested in learning more about how a proposal automation solution can transform your response process, check out The Ultimate Guide to Mastering RFPs and Sales Proposals.